By Arlie Rahn
Arizona Daily Wildcat September 4, 1997

All Grown up: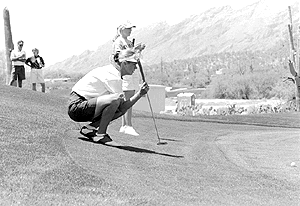 Katherine K. Gardiner
Arizona Daily Wildcat

Women's golf senior Heather Graff averaged a score of 76.1 in 10 tournaments last season. Over the summer, she established herself as a top amateur golfer after reaching the semifinals in the USGA Women's Amateur Championship.


When Heather Graff came to Arizona four years ago, UA women's golf coach Rick LaRose called her the "little pup" of the team. But after three years as an All-American, Graff is now ready to be the big dog.

"After last summer, I've gained a lot of confidence in myself as a golfer," said Graff, who averaged a score of 76.1 in 10 tournaments last season. "I really feel that I can have a great senior season."

Over the summer, Graff, who won the 1996 Pub Links her sophomore year, established herself as one of the top amateur golfers in the nation when she reached the semifinals in the USGA Women's Amateur Championship.

"(The Amateurs) was a lot of fun. For me to rank among the top four golfers in a tournament with over 140 women was a great achievement," Graff said. "I'm kind of disappointed that I didn't win it, but it gives me something to build on this season."

LaRose was confidant she would make an impact in the Amateurs, and expected nothing less than a championship.

"Heather had a great chance to win the Amateurs, and, honestly, I am surprised she didn't. I was all ready to get the airline ticket to go see her celebrate her championship once she made the semis," LaRose said. "But she did do a great job and I think that experience will carry over into more success this season."

As the lone senior on the team, Graff will always be known as the leader on a team that finished No. 3 in the nation last year.

But for Graff, leadership has never been a problem.

"Heather is one of the reasons I took over the program. I have thought the world of her as a person and an athlete," LaRose said. "We really built our program around her. She has always led with a quiet confidence that the other girls really feed off."

"She has been our leader for as long as I have been here. Heather really brings our team together," sophomore Jenna Daniels said. "She is concerned with how her teammates do, not herself. I remember last season at the Amateurs, Heather waited over a half-hour for me to finish and see how I was doing. She is very supportive."

Graff has also shown an ability to excel under pressure. In her first pressure situation during her sophomore season, Graff sank an eight-foot putt to help Arizona win the NCAA Championship.

"She is tough when it counts," LaRose said. "Most people didn't realize the magnitude of that putt at the time, but it was a big reason for our win. There is no one I would want to be in that position more than Heather. She is always focused."

Graff's golf game has also been on the upswing over the last four months. She finished the NCAA Championships last season with a 73, giving her a score of 297 for the tournament.

That mark was second on the team and 20th in the nation. She also had strong showing in the Pub Links before reaching the semifinals in the Amateurs.

"I struggled a lot last season, but I feel that I battled well when I needed to," Graff said. "I really kept my composure, especially at the Nationals. I shot a 75, which wasn't great, but I could easily have slipped and hit an 85."

Graff is now trying to add more distance to her shots, which would enable her to use more iron shots.

"She has great skills and technique and is working on adding some length," LaRose said. "But she is always looking at ways to improve herself. She is a great worker and very determined to succeed."

Following her graduation, Graff has her eyes set on professional golf.

"There is a long season ahead for me, but my ultimate goal is to make it as a pro," she said. "But if it doesn't work out, I would still like to stay in the sport and help teach kids."

And while it is a lofty goal, Graff's teammates feel she has a good chance to continue in the sport after college.

"She is a great teammate and a has a very good golf game," sophomore Shannon Ingalls said. "I know she wants to be a pro and I think she has the ability to make it."