Associated Press
Arizona Daily Wildcat February 2, 1998

Despite letdown, UA has enough to beat Cal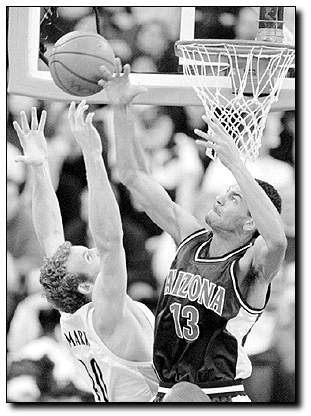 Associated Press
Arizona Daily Wildcat
Junior center Donnell Harris (13) battles California Golden Bears' Sean Marks, left, for a rebound in the first half at the Oakland Arena Saturday.

OAKLAND, Calif. (AP)-After a nearly perfect game against Stanford, Arizona had something of a letdown. It was still enough for another win.
Mike Bibby scored 16 points and Michael Dickerson added 14 as No. 6 Arizona won its 12th straight, defeating California 70-57 Saturday night despite an offensive output 25 points below the Wildcats' league-leading average.
Arizona coach Lute Olson said the team was still wrapped in the afterglow of its 93-75 victory Thursday over previously unbeaten and fourth-ranked Stanford.
"There was no question we had a letdown," Olson said. "I think (Cal) was a lot more fired up and it showed in the first half. In the second half, I thought we got that turned around. We started putting pressure on passes. ... When we're aggressive defensively, things started falling for us offensively."
It was enough to impress Cal coach Ben Braun.
"They've really got the total package of what you want," he said. "They seem to have a real confidence about them. I think there were times when we cracked their sense of confidence but they never really let us through."
Bennett Davison added 12 and A.J. Bramlett 10 for Arizona (19-3, 9-0 Pac-10), which achieved a sweep at Cal and Stanford after being swept in the Bay area in each of the last two years.
"This is going to be a difficult road trip for anybody," Olson said. "I'm just pleased we got through it."
The Wildcats' last conference loss was at Cal in last year's regular-season finale, their last loss before beginning a run to the national championship.
Sean Lampley's career-high 17 points led Cal (8-9, 4-5). Thomas Kilgore added 14 and Geno Carlisle 10.
Up five at halftime, Arizona took control with a 12-4 run that put the Wildcats in front 49-34, their biggest lead to that point. Bramlett and Dickerson each hit two baskets in the flurry and Bibby punctuated it with a breakaway dunk following a Cal turnover.
The Bears tried to get back into it, getting a 3-pointer from Kilgore as part of a 7-0 burst that cut Arizona's lead to 59-47 with 5:58 remaining.
Dickerson finished a fast break by pulling up for a 15-foot jumper, helping to break Cal's momentum, and Arizona then made four free throws around a basket by Lampley to build a 16-point cushion with five minutes left.
"We dug ourselves a hole in the second half," Braun said. "We had to play catch-up the rest of the way and a lot of that was due to easy putbacks."
Cal managed an 8-0 run in the late going but it wasn't enough.
Holding Cal to just 25 percent shooting from the field, Arizona took a 31-26 lead at halftime. The Wildcats shot 43 percent in that span but were hurt by 12 turnovers.