By Chris Jackson
Arizona Daily Wildcat February 2, 1998

Baseball continues dominance over New Mexico with sweep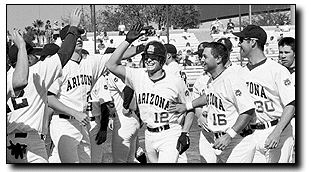 Leigh-Anne Brown
Arizona Daily Wildcat

UA left fielder Jason Hendricks receives congratulations after hitting a three-run homer in yesterday's game, a 15-6 UA win. The Wildcats won all three games in the weekend series.


Pitchers should avoid Frank Sancet Field.

The Arizona baseball team's offense does horrible things to them.

The Wildcats (8-0) swept this weekend's series with New Mexico (0-3) by a combined score of 45-22.

Arizona won yesterday 15-6, following up a 9-8 squeaker on Friday and a 21-8 debacle on Saturday. UA is now 113-28 all time against the Lobos.

"I think everybody is in the zone," UA left fielder Jason Hendricks said in reference to the Wildcats' hitting barrage.

Hendricks has homered in four consecutive games, the longest streak by a Wildcat since George Arias' run of seven straight outings in 1993.

Hendricks sat out the San Diego series, except for one pinch-hitting appearance, due to illness.

He showed that he recovered nicely by going 7 for 13 with three homers, two doubles, one triple, six runs scored and six RBI in this weekend's three games.

"I just feel good out there," Hendricks said. "I'm seeing the ball well, and I think that's the key."

Hendricks was not alone in hammering the ball. Second baseman Erik Mattern continued to swing the bat well, going 6 for 14 with a double, two triples, seven runs scored and seven RBI.

"It was a fun weekend," Mattern said. "Of course, it's always fun when you sweep."

Mattern described the team's offensive surge as "contagious."

"Everyone's picking everyone else up," Hendricks said.

Arizona jumped to an early 5-0 lead on the Lobos yesterday, with Hendricks starting the scoring by going over the left field fence to knock in three runs in the bottom of the first. Then catcher Greg Clark hammered another one to almost the exact same spot, driving in two more.

The lead would be all UA southpaw starter James Johnson (1-0) would need. Johnson struck out a career-high 10 batters en route to the win.

"They're doing pretty good," UA head coach Jerry Stitt said of his pitchers. "James was up in the zone all day."

The Lobos cut the UA lead to 5-2 in the second inning on RBI singles by catcher Jeff Hix and center fielder Mark Okano.

Arizona added another run in the bottom of the second on an RBI single by first baseman Kenny Corley, but New Mexico responded with a solo homer by left fielder Robert Gonzales in the top of the third. After both teams picked up one more run each, the Wildcats had their second big inning, driving Lobo starter Rick Gonzales off the mound in the bottom of the fifth.

After Clark and third baseman Mike Meyer singled to lead off the inning, Mattern tripled off the left field wall.

UA shortstop Keoni DeRenne then knocked in Mattern with a single, before he scored on a triple by right fielder Colin Porter.

Porter had a big weekend, going 7 for 13 with three doubles, one triple, four runs scored and two RBI.

He missed the cycle by a home run yesterday.

Saturday's 21 run, 20 hit massacre was highlighted by a nine run eighth inning.

Corley hit his fourth homer of the season and drove in three on the day to lead the balanced attack.

Pinch-hitter Teddy Gonzalez knocked in three runs on a triple, while Clark and Meyer each drove in a pair.

Southpaw Rob Shabansky went 6 2/3 innings, giving up six runs on 10 hits, to get his third win of the season on Saturday.

It was another UA pitcher, junior right-hander Darrell Hussman, who stood out in Friday's 9-8 win. Hussman struck out a career-high 12 batters, though he did not get the decision.

The Lobos led for the entire game, including an 8-5 margin going into the bottom of the eighth.

So, the Wildcats responded in their usual manner, by hitting the ball real hard. Hendricks and Clark hit back-to-back solo homers, and after Gonzalez scored on a wild pitch, third baseman Omar Moraga drove in the winning run on a sacrifice fly.

Southpaw Tony Milo (3-0) got the victory with the help of a 6-4-3 double play to end a minor Lobo threat in the ninth.

Next up for Arizona is No. 13 Baylor, which comes to town on Thursday for a three-game set.

"It'll be our first true test," Mattern said.