By Dan Rosen
Arizona Daily Wildcat February 2, 1998

Rugby team suffers first-ever Invitational loss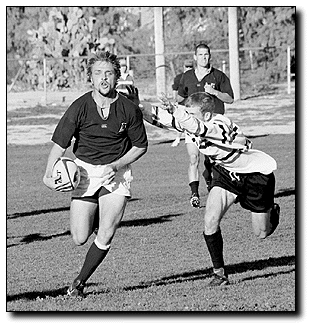 Leigh-Anne Brown
Arizona Daily Wildcat

UA senior center Alan Lakomskis (left) breaks through the crowd during yesterday's game against Brigham Young University. The Wildcats lost 26-14.


The Wildcat Rugby team split a pair of games Saturday at the Dominos Invitational, a three-year-old event in which they had never lost a game.

After the Wildcats defeated Arizona State, 37-10, in the morning game, they met a more physical and older Brigham Young Cougars club who beat them, 26-14, at Estevan Park.

"We overwhelmed ASU in the first half and just dominated all the way through but we were missing both locks and a starting scrumhalf in the BYU game as they were out with injuries following the ASU game," UA head coach Dave Sitton said. "Even though we were banged up, we still outplayed BYU in the second half."

Unlike the game against ASU, the Wildcats trailed BYU 19-0 at halftime.

"They are a tough team and very disciplined," Arizona captain Chris Kron said.

BYU scored early, notching a try only five minutes into the game. They continued pouring on the points against an uninspired-looking bunch of Wildcats.

UA came out with a little fire in the second half and managed to outscore the Cougars 14-7 with good kicking by Zack Harrison and Kron's speed.

"We wore them down in the end, but it just was not enough to come back from 19 points," Kron said.

The Wildcats were trailing 19-9 with 10 minutes left to play.

They looked like they had a shot at a comeback until Harrison tripped and gave the ball away for a 50 yard try to seal a Cougar victory.

But UA did not back down. Kron ran in Arizona's only try of the game with seven minutes left to play in what turned out to be the last score of the game for both sides.

The Wildcats go on the road for the first time this year in two weeks as they travel to San Diego for games on Feb. 13 against San Diego State and Feb. 15 against San Diego.

"The San Diego trip is going to be real tough, so we are really going to concentrate on fitness for the next two weeks," Kron said.