By Bryan Rosenbaum
Arizona Daily Wildcat February 2, 1998

Seniors win final home meet in style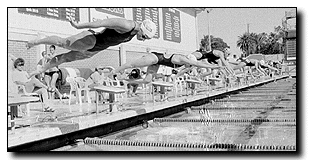 Brian Foster
Arizona Daily Wildcat

The first heat of the UA women's swim team dives into the freestyle relay Friday against Washington and Texas at Hillenbrand Aquatic Center. The Wildcats swept their opponents in their last home meet of the season.


It was senior weekend at Hillenbrand Aquatic Center, and who better to lead Arizona to victory than the five women and two men who swam in their last home meet.

In an NCAA Championship-style meet, where Friday and Saturday were broken down to resemble the three days of the national championship meet, Arizona swept aside Texas and Washington.

The fifth-ranked women defeated the Longhorns and Huskies by scores of 190-165 and 189-139 respectively. The ninth-ranked men pounded Washington 165-123.

Senior Shannon Hosack continued her impressive season, winning the 100-meter freestyle and butterfly races. Sophomore Trina Jackson won four races - the 1,650 free, 200 free, 200 fly, and 400 individual medley.

Seniors Chris Counts and Glenn Flint led the way for the men. Counts, who transferred from Florida to Arizona his junior year, won the 200 free with a time of 1:41.32, less than three-tenths faster than freshman teammate Jay Schryver, who won the 100 free.

Flint, who transferred from George Washington to Arizona his junior year, won the 200 breaststroke with a time of 2:07.25. Flint is the nation's third-fastest 200 breaststroker.

The women seniors honored over the weekend were Hosack, Laurie Kline, Liesl Kolbisen, Heather Branstetter and Maureen Phillips. This senior class, so far, has won two NCAA championships, 38 All-America awards and countless school records.

The men will say good bye to Counts and Flint. Counts was and All-American and Flint is the third-fastest 200 breastsroker in school history.

UA head coach Frank Busch will miss the outgoing seniors but not just because of how they swam.

"This is a great group of kids," he said.

"They excel not only in the pool, but out as well. They will be sorely missed around here when the season's over."

But Busch won't be shedding any tears yet because, with two months left, the season is far from over.