By Rachel Carasso
Arizona Daily Wildcat February 6, 1998

UA one of nation's top 'wired' schools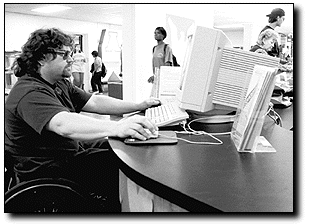 Dan Hoffman
Arizona Daily Wildcat
Microbiology senior Mic Lexa uses the internet capabilities of the new computer at the information desk of the Memorial Student Union to check the dates of his finals. Lexa uses this computer often because he appreciates its convenience, but believes Arizona State University provides better student access to the internet.

A World Wide Web information database has named the UA the 14th most "wired" university in the country.
Yahoo! rated 100 colleges and universities on how they utilize computer technology and how easy it is to use. The final rankings, released Jan. 29, were based on cumulative scores determined from survey results.
The University of Arizona ranked third among all state schools, behind the University of Oregon and Indiana University-Bloomington. Yahoo!, which also surveyed the 100 most-wired community colleges, ranked Pima Community College third - making Tucson the city with the most wired colleges in the nation.
Academic computer use accounted for 45 percent of a school's rating, hardware and wiring accounted for 22.5 percent and social Internet use made up 22.5 percent of the rating. Student Services accounted for 10 percent.
Massachusetts Institute of Technology ranked No. 1 in the national survey, followed by Northwestern.
"The UA's ranking is well-deserved," said Dan Roman, network operations manager for the UA's Center for Computing and Information Technology. "The UA provides multiple ways for students to get the resources that they need."
All of the university's 120 buildings are connected through copper wiring that allows faculty and students to reach departments over the computer. A fiber optic network recently installed between the university's buildings has made logging on to the UA's network faster than in the past few years, Roman said.
UA students on campus can use the university's network and log on to the World Wide Web and national databases.
"I have students use the network for everything" said Byungtae Lee, an assistant management information systems professor. "Students can check their grades and file appeals for any grades on the home page."
Communications Professor Michael Dues said he takes advantage of the UA's computing capabilities in his Communications 100 and Communications 312 classes.
"Computers increase the possibility for information and it allows me to interact with more students," Dues said
In his Communications 100 class, Dues said he has a home page and a listserv he created to better aid the students.
When students sign on to the listserv, they can receive course information via e-mail. Dues said he posts outlines of his lectures 24 hours before class and encourages students to print them out.
He also said he posts study guides a week following lectures so students can make sure their notes are complete.
Students can also e-mail questions about the class to Dues or the teaching assistants at any time, he said.
"I spend about one-third of my office hours responding to students' questions," Dues said. "In the week before an exam, I get 500 or 600 questions on e-mail."
But there are plenty of students who still come in person to talk to Dues.
"Sometimes even with all the instruction I give on how to use the listserv and home page, 15 to 25 percent of my students are still computer-phobic," he said.
If his students do not have time to wait to talk to Dues, the computer is a valuable outlet, he saidAlthough Lee said the UA deserved its ranking, he said undergraduate students need more resources and that the university's Internet system needs to be improved.
"I think that the university needs more labs because now students have to compete for terminals," said Lee, who teaches MIS 307, a telecommunications course.
Students, however, said the university's Internet system is easily accessible and helpful for doing assignments, writing e-mail and surfing the Web.
"I use the computer for e-mail and for papers and I use Microsoft Excel for accounting," said Jenna Von Hagen, a psychology senior.
"All my classes are tied to computers," said biology senior Jared Welch. "I think it makes it easier because you don't have to wait around for professors."
Welch, who uses computers for both academic and social reasons, said the UA's high ranking made sense.
"I transferred from a small college in Idaho, and the UA has so many more computer resources," he said.
Top 20 Most "Wired" Colleges:
1. Massachusetts Institute of Technology

2. Northwestern University

3. Emerson College

4. Rensselaer Polytechnic Institute

5. Dartmouth College

6. University of Oregon

7. New Jersey Institute of Technology

8. Indiana University-Bloomington

9. Middlebury College

10. Carnegie Mellon University

11. Colby College

12. Princeton University

13. Case Western Reserve University

14.University of Arizona

15. Pomona College

16. University of California-Berkeley

17. University of Connecticut

18. Skidmore College

19. Iowa State University

20. Reed College
Source: Yahoo!