By Susan Carroll
Arizona Daily Wildcat February 6, 1998

Likins creates additional VP to handle external affairs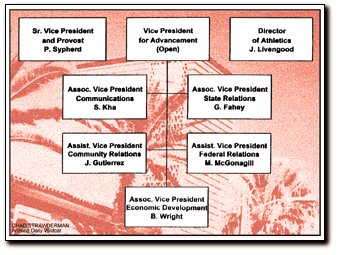 Arizona Daily Wildcat

University Power Structure


UA President Peter Likins said Monday he wants to fray negative perceptions of the university by hiring a vice president to handle external affairs - a position his former university eliminated after his departure.

"This university needs to do a job of developing a more favorable public image," Likins said.

Acting on recommendations from several planning committees, regents and administrators, Likins said the decision to hire another vice president was an easy one.

He said he hopes to better integrate the University of Arizona and its surrounding community by restoring the previously eliminated vice president for external affairs position. Likins will rename the position vice president for advancement.

At the UA, 16 administrators now report to Likins on issues including internal affairs, relationships with benefactors, state and local governments and the media. Five of these administrators will eventually report to the vice president for advancement.

Likins hopes delegating these responsibilities will allow him to concentrate on students and faculty.

"A president in charge of external relations is forced to neglect certain functions," he said.

"A university president cannot effectively communicate to outside factors without working with students and faculty."

Likins will also reorganize the UA's administration so he can focus more on campus issues and internal operations.

Bruce Wright, assistant to the president for community affairs and economic development, will concentrate on economic programs after the change. Jaime Gutierrez, special assistant to the president, will focus on community affairs.

"The president has clarified certain responsibilities," Wright said. "It is a positive development."

Wright said he will still work directly with Likins after the new vice president position is created.

"Without a number of people from different studies reporting to him," he said, "I will have a better ability to access the president when I need him."

Wright said Likins' "comprehensive approach" is designed to improve outreach and academic activities.

"It is a strong move," Wright said. "The university is a public institution that relies heavily on public support."

Likins implemented the vice president for advancement position in the early 1990s while he was president at Lehigh University in Pennsylvania.

"By and large, it was not a structural, but a name change," said Bill Johnson, Lehigh's director of external affairs.

He said there was a trend in the industry to use the term advancement for external affairs.

"I don't believe it's an original idea with Peter Likins," Johnson said.

This past year, Lehigh replaced the vice president for advancement with two separate administrators. The vice president for public affairs now handles only fund raising, while the vice president for development is in charge of community and government relations.

"We had a unique need to stress more community and government relations," Johnson said.

Likins said the new vice president will make at least $100,000 a year, although an exact salary has not been determined. A UA search committee, he said, will be created in the next few weeks to perform a national search.