By Zach Thomas
Arizona Daily Wildcat February 6, 1998

ASUA would not adopt open meetings law proposal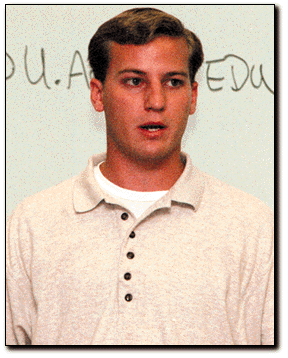 Arizona Daily Wildcat
Gilbert Davidson

PHOENIX - ASUA will provide more information about closed-door Senate sessions but will not open executive branch committee meetings to the public if a proposal in the state Legislature makes it into law, ASUA President Gilbert Davidson said yesterday.
The bill, currently pending in the state Senate, would broaden the Arizona Open Meetings Law to include executive-appointed committees currently not covered, and tighten rules governing executive sessions, which are closed meetings of public bodies.
"The Senate is what tries to voluntarily comply with Arizona open meetings laws," Davidson said in a phone interview. "For any special task force that I've appointed, that's usually up to the committee chair."
Associated Students senators and Arizona Daily Wildcat reporters have clashed in recent years about how and when the Senate can call an executive session, which is closed to the public.
State law says public bodies may enter executive session only when discussing personnel matters or consulting with legal counsel. Members may not vote behind closed doors.
ASUA's constitution requires that its senate comply with Arizona open meetings statutes.
The pending proposal, SB 1409, stipulates that any public body must agree by majority vote to include anyone other than body members in an executive session.
Senate Majority Whip Gary Richardson, R-Tempe, proposed the bill primarily to open up "blue-ribbon advisory board" meetings to the public. Such committees are appointed by the governor to examine a particular issue or set of issues.
"It's continuing the efforts that I've been doing for several years to open up the political process to the public," said Richardson said. "The more info. we as a public have, the better decisions we can make as a Legislature."
An almost identical measure that failed last year faced opposition from former Gov. Fife Symington.
"That was probably because it affects executive-appointed committees," Richardson said.
Symington's successor, Republican Gov. Jane Hull, has yet to weigh in on the issue and said through a spokeswoman that she was remaining neutral.
"What the governor is doing right now is simply monitoring the situation," Hull spokeswoman Francie Noyes said.
"Her experience has been that these bills typically change quite a bit during the legislative process, and she doesn't want to get tied to something that she doesn't know how it will come out," Noyes added.
Supported by the Arizona Newspapers Association, Richardson's open meetings bill would help the state's media through increased access, said Phil McDonnell, an ANA lobbyist and legal counsel.
"It further requires multi-member bodies to make all decisions in the open," he said, adding that there have been instances in the past where government committees have discussed proposals away from a public meeting venue.
Committee members could then, in theory, vote on a proposal without first opening the floor for public discussion.
Richardson, who has twice received the Arizona Newspapers Association's Freedom of Information Award, said he has always been a proponent of open government.
"We need to keep this debate on the front burner," he said. "I need to make a better argument that people need to know what's going on."
Richardson added he would try to elicit the governor's support for his bill.