By Rachel Carasso
Arizona Daily Wildcat February 9, 1998

3rd-graders offered free UA education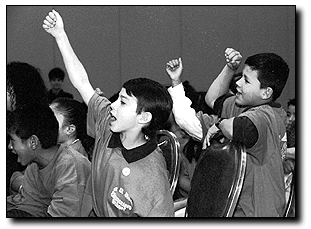 Adam F. Jarrold
Arizona Daily Wildcat

From left, Genaro Serrano, Emmanuel Ortega and Robert Lopez, third graders from C.E. Rose Elementary yell "Go Cats" with the rest of their classmates during a press conference Friday in the Senior Ballroom of the Memorial Student Union. UA president Peter Likins pledged to give each of the students present a full tuition wavier to the university if they all graduated from high school.


UA President Peter Likins Friday promised a free college education to 101 third-grade students who attend a southside elementary school - but only if the students meet the UA's admission requirements when they are high school seniors.

Likins, who announced his plan to the children and Tucson community members in the Memorial Student Union's Senior Ballroom, said it is not just about giving the children of C.E. Rose Elementary School a free ride to college.

"The tuition is the easy part," he said. "We have to give these kids support for 10 years."

The University of Arizona partnered with the Southern Arizona Crime Prevention Partnership to provide the tuition waivers after Tucson Unified School District identified the children at C.E. Rose, 710 W. Michigan St., as at risk to drop out of school. The children, according to Tucson's "South Sixth (Avenue) Corridor Profile," live in high crime neighborhoods.

The Rotary Club of Tucson will establish a fund to provide the students with money for books and living expenses once they come to the UA. Rotary Club members have also promised to be role models and mentors for the children.

"The third graders are young enough where we can still do some prevention," said Regina Murphy-Darling, Rotary Club president. "It is our last chance to keep them away from drugs and crime before they get too far down the road."

Avelina Trujillo, C.E. Rose's principal, said she was overwhelmed when she learned about the project.

"This is fantastic. It is a dream come true for me," she said. "I grew up in this community and I know what these kids have to deal with. I feel like this is happening to me."

Santos Armenta, a third-grader at C.E. Rose, said he is ready for the challenge.

"I know it is going to be hard, but I'm excited to be a Wildcat," he said.

After C.E. Rose, the children will attend Wakefield Middle School, 101 W. 44th St., then Pueblo High School, 3500 S. 12th Ave.

The UA hopes the free education project will encourage the children to stay in school.

Each year, 12 percent of Hispanic students in the Tucson Unified School District quit school, said George Garcia, the district's superintendent.

Likins said he hopes the project will prompt other organizations to come together and help other troubled southside schools.

"We hope that this community commitment is contagious," he said.

The UA's Academic Preparation for Excellence and Math Engineering Science Achievement give academic enrichment to young students in the community. Their services also will be provided to the children at C.E. Rose.

Likins said he also wants UA students to get involved with the C.E. Rose children.

"UA students can relate to these kids on a different level and it is important that these kids have positive influences," he said.

Michael Gottfredson, the UA's vice president for undergraduate education, said in order to be serious about stopping juvenile crime, the focus must be on children under 8 years of age.

The Parent Connection and Parents and Children Together, both Tucson organizations, have pledged to be a link between the students and their families. The Parent Connection is going to start playgroups for families with infants and toddlers.

Diann Belleranti, Parent Connection's executive director, said it is important also to give parents support and education.

"We want to help the parent behind the child," Belleranti said.

Parents and Children Together will provide family counseling, and both organizations will work in an on-site wellness center at C.E. Rose.

Others who have worked on the project include Pima County Attorney Barbara LaWall, Pima County Sheriff Clarence Dupnik and Doug Smith, chief of the Tucson Police Department.