By Chris Jackson
Arizona Daily Wildcat February 10, 1998

Baseball team rises 14 spots in new national poll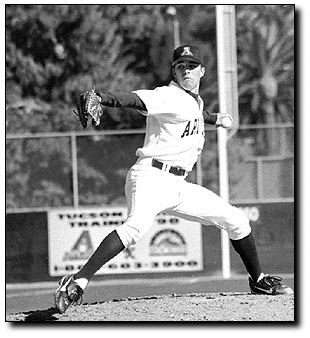 Leigh-Anne Brown
Arizona Daily Wildcat
Junior left handed pitcher James Johnson throws against New Mexico earlier in the season. The Wildcats will face New Mexico State today at 3 p.m. at Sancet Field.

The Arizona baseball team has a simple goal.
"Our goal is to get better every day," UA head coach Jerry Stitt said. "We don't think about wins."
The Wildcats have gotten better, moving up to No. 10 in both the Collegiate Baseball and Baseball America polls after having been unranked in the former and No. 24 in the latter. It is UA's highest ranking since 1993, when they were ranked as high as second.
Off to an 11-0 start, Arizona is two wins shy of tying the best start in school history, set in 1974.
The Wildcats can pull within one win of the record with a victory this afternoon at 3 p.m. at Frank Sancet Field against New Mexico State (6-2). They can tie it tomorrow with another win over NMSU.
The unranked Aggies roll into town after playing six of their first eight games in Arizona, appearing in two tournaments in the Phoenix area.
New Mexico State lost to Arizona State 13-1 and to Kentucky 8-6, but they did top Kansas State 9-4 before its final game in Phoenix was rained out Sunday.
"They'll be a pretty good team," Stitt said of the Aggies.
Arizona spilt a two-game series with the Aggies last year, winning 12-4 and losing 8-4.
Still, the Wildcats might already be looking ahead to a showdown with fifth-ranked Southern Cal in Los Angeles in two weeks.
Stitt insists that is not the case.
"They are not going to overlook anybody," he said. "In college baseball on any day all you need is a good performance from a pitcher to beat anyone."
The Wildcats will send Dave Abbott (0-0, 10.80) to the mound today for his first start of the season.
Abbott will face an Aggie offense led by third baseman Chris Weekly (.464 average, three homers, 15 RBI), left fielder Todd Rizzi (.476-2-6), center fielder Jason Mostek (.462-1-8) and first baseman Jason Story (.310-1-12).
This will be the first series all year where the Wildcats' opponent is not opening its season.
Abbott will count on Arizona's big hitters for offensive support. With 147 runs scored in their first 11 games, the Wildcat hitters will look to maintain their hot streak.
Leading the way, literally, is second baseman and leadoff hitter Erik Mattern (.460-3-22). Other big bats include catcher Greg Clark (.444-5-17), left fielder Jason Hendricks (.571-6-14) and right fielder Colin Porter (.395-2-14).
Stitt said the team is still looking for someone to take over the designated hitter's role. Russ Brown, Josh France, Rob Shabansky and Erik Torres have all seen action there this year, and Stitt hopes this series will help him choose a starter for the remainder of the season.
The Wildcats and Aggies will match up again tomorrow at the same time. Arizona then gets one day off before Portland State comes to town for a three-game set starting Friday.
Baseball America Top 25
(tie games are not included in records):
Team		    Record   Prev. ranking	
1. Stanford	    5-0		 1	  
2. Miami	    2-1		 2	  
3. LSU		    0-0		 3	  
4. Rice		    4-0		10	  
5. Southern Cal	    3-2		 5	  
6. Arizona State    8-2		 6	  
7. Florida	    2-3		 4	  
8. Alabama	    0-0		 7	  
9. Texas Tech	    3-1		 8	 
10. Arizona	    11-0	24	 
11. Michigan	    0-0		 9	 
12. Washington	    0-0		12	 
13. Auburn	    1-2		11	 
14. South Carolina  1-1		15	 
15. Oklahoma St.    1-1		16	 
16. UCLA	    3-4		18	 
17. Georgia Tech    1-2		14	 
18. Ohio State	    1-2		17	 
19. Wichita State   0-0		19	 
20. Duke	    4-0		-	 
21. Florida State   3-2		25	 
22. Baylor	    0-3		13	 
23. Clemson	    3-0		-	 
24. Mississippi St. 0-0		21	 
25. Oklahoma	    2-0		22