University police officer to receive award for preventing a suicide
By Bryon Wells
Arizona Daily Wildcat
August 24, 1998


Send comments to:
city@wildcat.arizona.edu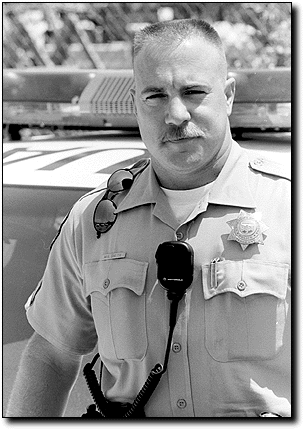 Ian Mayer
Arizona Daily Wildcat

Sgt. Michael Smith from UAPD will receive an award for keeping a suicidal woman from jumping from the fourth level of the Arizona Stadium last Monday.


A university police officer's ability to keep a suicidal woman from jumping from the fourth level of the Arizona Stadium Aug. 17 has put him in line for a merit award.

Shortly after Sgt. Michael Smith began his early morning shift, a police call sent him to the stadium.

"That's when I saw the woman sitting up there with her legs dangling over the ledge," Smith said yesterday.

Tucson and university police initially arrived at the stadium at 5:39 a.m. and closed an area of East Sixth Street from North Highland Avenue to North Warren Avenue after receiving a call about a woman sitting on the ledge of the southeast side of the structure and threatening to jump, said university police spokesman Cmdr. Brian Seastone.

By the time Tucson police hostage negotiators arrived, Smith had already climbed to where the 33-year-old woman was perched and began talking to her, Seastone added.

"Mike was able to get a real good rapport with her so negotiators decided to let him continue," he said. "He just did an excellent job in talking with her, being sympathetic with her and she was relaxed and calm enough to doze off."

Smith said a Mobile Assistance and Crisis team was on the ground and communicating with the woman by shouting back and forth when he arrived, and that he suggested offering her his portable telephone.

Smith said he approached the woman and gave the her the phone, adding that he tried to keep a comfortable distance between them while he "made small talk" so she wouldn't become excited.

"There were some points where she was looking at the ground, concentrating and breathing heavily like she was counting - one, two, three," he said, adding that the counting made him think she was preparing to jump.

Smith said he had to think fast in trying to change the subject.

"You have to tap dance quickly," he said. "She said she had to throw up. Normally when that happens, the subject has already made up their mind to go over."

That was exactly the case in a suicide Smith witnessed May 28, 1994.

Smith said he watched 20-year-old Andrew Hedberg, an undeclared freshman, vomit right before falling to his death from the fourth-story stairwell of the Life Sciences South building, 1007 E. Lowell St.

Smith said he regrets not being able to have helped Hedberg, adding that he was relieved fellow officers were able to grab the woman last Monday. He said he believed she was serious about her threats to jump.

The standoff lasted about one and a half hours, and Smith said he was able to inch closer to the woman until he was sitting next to her, adding that he devised a way to signal fellow officers for a rescue without the woman noticing.

"I nonchalantly keyed my radio and asked her to stay with me, saying 'You've nodded off about five times already,'" Smith said.

His voice was broadcast to officers close by, and they were able to grab the woman minutes later when she appeared to "doze off" again, Smith said.

According to university police reports, the woman said she was upset about her third drunken driving arrest, and that she was afraid of being jailed for 30 days when she faces trial for the offense.

The woman was taken to Kino Community Hospital, where she was committed for a 72-hour psychological evaluation, and hospital officials would not comment yesterday on the womanÍs condition. Smith, who will receive the merit award in December, said that he did not hear from the woman after she was taken to the hospital, but expressed concern.

"I hope that she gets everything in her life squared away," he said.

The Arizona Daily Wildcat is withholding publication of the womanÍs name and address due to her right to privacy.