Freshman enrollment hike sparks student housing shortage
By Angela Romano
Arizona Daily Wildcat
August 24, 1998


Send comments to:
city@wildcat.arizona.edu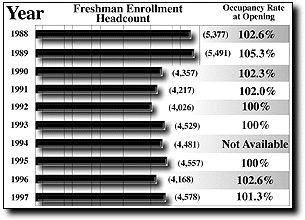 Wildcat File Photo
Arizona Daily Wildcat


An extended deadline and an overwhelming increase in students seeking on-campus housing forced UA administrators to figure out ways to accommodate 500 extra incoming freshman.

"By April, we knew housing would be tight," said Pamela Obando, associate director of marketing for University of Arizona's department of residence life.

Every student who turned in an application by the new May 1 deadline was guaranteed housing, but 420 students who missed the deadline were turned away, Obando said. The application deadline used to be March 1.

"The problem was a more than usual number of honors students wanting to live in honors dorms, which led to the decision to triple people in the rooms at the Arizona-Sonora Residence Hall," Obando said.

Students living in Arizona-Sonora received a letter stating that their rooms would be increased to triple occupancy in exchange for a rent decrease of $950.

Female honors students had the option of staying at Arizona-Sonora or moving to the new all-women dorm, Pima House, on the corner of North Mountain Avenue and East First Street.

"It doesn't bother me," said Rebecca Missel, a journalism freshman living in Arizona-Sonora. "It might be three people but it's much cheaper."

Other students still face the problem of having to live with their resident assistant until a room opens up.

"Two weeks ago I thought I would have a regular room. I'm not mad but I would rather have a regular freshman room," said Joe Dugan, a undeclared freshman living with his RA in Coronado.

Obando attributed the unexpected growth of incoming freshmen to the UA's growing reputation.

"I have seen projections that suggest enrollment for the next ten years will increase by 100 students per year," said Jim Van Arsdel, director of Residence Life.

Van Arsdel attributed the growth to a recent surge in the number of graduating seniors, in addition to the UA's added push toward better education.

"The UA is a very traditional campus, so when the number of graduating seniors increases, so does the number of incoming freshman," Van Arsdel said.

In June, the UA received approval for the construction of two new residence halls that will be located directly across from La Paz and Graham-Greenlee, Obando said. These new residence halls should be finished by 2001 or 2002 and will house a total of 700 students.

"We are anticipating housing will be a problem for the next few years as well," Obando said. "I highly stress the importance of turning in housing applications early."