Copy cost now falls on students
By David J. Cieslak
Arizona Daily Wildcat
August 24, 1998


Send comments to:
city@wildcat.arizona.edu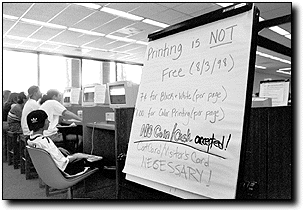 Katherine K. Gardiner
Arizona Daily Wildcat

The UA Main Library has implemented a fee of 7 cents per black-and-white page and $1 for color pages for students who print off the Internet. The Library reportedly lost $66,000 during the 1997-'98 fiscal year because of free printing.


In a move sharply criticized by some student leaders, the UA Main Library has instituted a policy of charging computer users per page for laser printing.

Individuals who wish to print off the Internet at the library's central bank of computers on the main floor will now be charged 7 cents per black-and-white page and $1 for color pages.

ASUA Executive Vice President Cisco Aguilar has referred to the policy as an attempt to "nickel and dime" students.

"This is really saddening," Aguilar said at a May 6 Associated Students Senate meeting at which the proposal was presented by three library officials. "I think you're hurting the educational system here. It really sets a bad precedent."

A proposal, distributed by library officials to the Associated Students Senate, outlines the changes and the high costs the library has endured by providing free printing.

The document reported $66,000 in losses for fiscal year 1997-1998 and that more than two million sheets of paper were used from Nov. 1, 1996 until Feb. 11.

It also showed that several universities nationwide have eliminated free printing, including the University of Southern California and the University of Oregon.

With the exception of specialized computer labs, Arizona State University and Northern Arizona University still provide free black-and-white printing in their main libraries.

While the library has billed the new system as "cost recovery," several members of the Associated Students are avidly against the move.

Aguilar said yesterday that a meeting between ASUA executive officers and Library Dean Carla Stoffle is planned for next Monday, but he warned that unless the library reverts to the free printing, he will advise the Senate to take action.

"I know there are some senators who think this is ridiculous," Aguilar said.

Senior Library Assistant Erin Thomson said she understands the anger some people might feel as a result of the new program but defended the library's decision.

"I'm intimately familiar with how expensive it is to offer free printing," she said. "It's not that the library is trying to make a profit."

But students had their own answers to the library's money problems.

"Maybe they should start charging after a certain number of pages so people don't abuse it," said Irazmi Perez, an architecture freshman.

Political science freshman Kelly Ward said the library should receive monetary assistance from the university.

"Whoever is in charge of dispersing funds should disperse more to the library so they don't have to charge," she said.

Some freshmen were surprised to learn that printing used to be free and questioned the new policy.

"It has to be free," said Abdullah Algariesh, an electrical engineering freshman. "We are students and we have to use all the facilities here."

"It's not necessary to take 7 cents per page," said computer science freshman Abraham Alyani. "It's not a lot of money."

At a cost of $22,000, the library purchased special CatCard readers that debit money for the printing and a new computer program called UniPrint that organizes the print jobs and fees.

The new fees reversed a policy in place for nearly five years that allowed students to print copies off the Internet for free. Robyn Huff-Eibl, a library specialist and spokeswoman in charge of public queries about the fee, was unavailable for comment.