Most UA students polled oppose U.S. missile strikes
By Michael Lafleur
Arizona Daily Wildcat
August 24, 1998


Send comments to:
city@wildcat.arizona.edu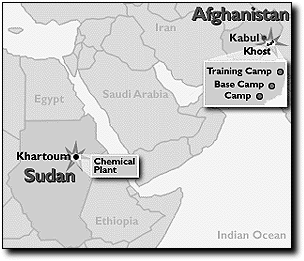 Wildcat File Photo
Arizona Daily Wildcat


While polls show that the American public at large supports Thursday's U.S. strike on terrorist targets in Afghanistan and Sudan, an informal survey suggests that UA students disagree.

"I thought it made us exactly like them (terrorists)," said Liz Cassidy, an undeclared freshman. The Arizona Daily Wildcat questioned 25 students on campus and Cassidy proved one of 18 individuals who repudiated the attack.

An ABC News poll Thursday reported an 80 percent approval rating of the strike, but 72 percent of University of Arizona students polled gave President Clinton's actions a thumbs down.

From the cloistered seclusion of Martha's Vineyard, Clinton announced Thursday that U.S. forces bombed an alleged terrorist training compound in Afghanistan and a pharmaceutical factory in Sudan that purportedly produced nerve gas.

Clinton said in a news conference shortly after the strike that the United States targeted the base camp and resources of Osama bin Laden, a Saudi Arabian millionaire who has admitted to terrorist action against Americans and is suspected of masterminding the U.S. embassy bombings in Tanzania and Kenya Aug. 4.

Richard Constable, a business management junior, said he does not support the U.S. military response to the embassy bombings.

"He (Clinton) said it was a form of retaliation - an eye for an eye - I don't think there can be any resolution like this," he said.

Others at the UA said they fear that military conflict will continue.

"One bomb leads to another," said Jason Marchitto, a social sciences sophomore. "I think the U.S. has enough problems before they decide to go into a Third World country."

Clinton spent the early part of last week testifying before a grand jury regarding allegations of obstructing justice and committing perjury. He also admitted to an "inappropriate" relationship with former White House intern Monica Lewinsky. Some UA students accused the president of attracting attention away from the scandal with Thursday's strike.

"I do think it was a ploy to get the Lewinsky scandal out of the news," said Tom Golightly, a psychology and Italian studies junior. "I think it was too quick of an act - I'm all for armed forces intervention but not for one person's political reasons."

David Spiro, a political science professor, did not lend any credence to the notion that the missile strikes were a direct result of Clinton's attempts to diffuse the Lewinsky scandal.

"The American public in general has much more to worry about than if the president gets a hummer in the Oval Office," he said. "I don't think those students who blame the attack on the Lewinsky are right - the decision to attack was made before Clinton's testimony."

Spiro said U.S. foreign policy of the 1980s made the attack necessary, as the government funded bin Laden to fight Russians in Afghanistan. A large amount of American money also found its way to Sudan, the second largest aid recipient in Africa in the '80s, he said.

Not all the students surveyed, however, were opposed to the attack.

"I felt that we had to do what we had to do to protect ourselves," said Pauline Hoffman, a junior in elementary education. "Granted I don't feel that innocent people should have been killed, but if they (Sudan and Afghanistan) were supporting terrorists something had to be done."

Another student said retaliation by the United States was crucial for national security.

"I think it's good - it's about time we reacted to terrorist attacks," said Jason Prosser, a business senior.

In the aftermath of the attack, a member of the terrorist organization Jihad sent an e-mail to the Arizona Daily Wildcat warning that Muslim students at U.S. universities could be negatively affected by the bombing.

"If the situation escalates, Muslims in all parts of society will suffer at the hands of an intolerant non-Muslim society," Reza Jugon said Saturday in an e-mail interview.