Football team struggles in scrimmage
By Chris Jackson
Arizona Daily Wildcat
August 24, 1998


Send comments to:
city@wildcat.arizona.edu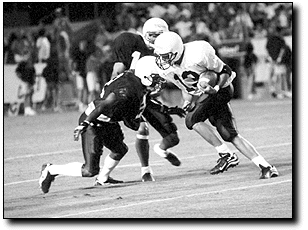 Nicholas Valenzuela
Arizona Daily Wildcat

Junior wide receiver Brad Brennan (13) gets ready to take a hit after his catch during UA's Friday night scrimmage. There was a crowd of about 2,000 people at the scrimmage, which was the fan's first chance to see the team's new look for the upcoming season.


Arizona football head coach Dick Tomey had a good point after Friday night's scrimmage.

"This was a good dress rehearsal, but any time you play yourselves, you won't be pleased, because one side of the ball takes turns at doing better than the other side," he said.

In terms of one side looking worse than the other, the offense was just that early on in the scrimmage, before eventually waking up and giving the defense a thing or two to think about in the 10 days before the University of Arizona plays at Hawaii to start the season.

The Wildcats' quarterback tandem of junior Keith Smith and sophomore Ortege Jenkins struggled mightily early on.

Smith ended the night 1 of 6 with an interception, while Jenkins did manage to salvage part of the scrimmage by finishing 8 of 18 for 133 yards and a touchdown.

Despite the problems, Tomey said that the scrimmage did nothing to change his mind about sticking with a two QB system.

"I thought that O.J. recovered better than Keith did," Tomey said. "They've both done a fabulous job in camp. Like I've told them, if one guy has a bad night, it won't eliminate him from the picture."

Tomey said that he didn't know if any other potential starters had emerged from the scrimmage. He said that the UA coaches would mainly focus on setting up the team's roster for Hawaii.

Unlike most scrimmages, where the No. 1 offense plays the No. 2 defense and vice versa, Tomey pit "our best against our best.

"It makes such a difference to get out under the lights. A real game-type atmosphere," he said. "We needed it."

All together the team ran more than 100 plays after the coaches earlier said there would be only 60 to 90 for the evening. Two thousand fans showed up to watch the offense spring for 33 points, while the defense managed to score 12 when senior fullback Kelvin Eafon fumbled and later when senior cornerback Chris McAlister ran a kickoff return back 85 yards.

"The kickoff return was fine," McAlister said. "The scrimmage in general went pretty well."

McAlister said that the "intensity level went through the roof" among the players prior to the scrimmage.

Among those players who put up good numbers in the scrimmage was freshman wide receiver Malosi Leonard, who had two catches for 71 yards including Jenkins' TD pass.

Leonard gives the Wildcats added depth at a position that already boasts the talented triumvirate of junior Dennis Northcutt, senior Jeremy McDaniel and junior Brad Brennan.

Not to be outdone, the Arizona backfield came up big in the game despite the fact that go-to-guy Trung Canidate is still on the sideline nursing a foot injury suffered late last season.

Eafon recovered from his fumble to rush for 25 yards in seven carries, plus 20 more yards on two pass receptions.

Sophomore Leon Callen, who is back after missing all of last season due to a knee injury, led the team with 71 yards in six carries, including a 50 yard run that set up one of two touchdowns by highly-touted freshman Leo Mills.

Mills, despite a tough camp that saw much of the defense key on him whenever he ran, scored twice on eight carries for 30 yards.

Individual standouts on defense were few, but sophomore outside linebacker DaShon Polk said that is indicative of this year's unit.

"I think we've got a solid defense player-wise and athlete-wise," he said. "But we don't have experience and it showed (in the scrimmage)."

One defender who did pick up some impressive numbers was junior free safety Rafell Jones, who is battling for a starting spot in the secondary. Jones had two tackles and a sack.

Senior defensive tackle Daniel Greer said that the defense "really pumped it up" before the game.

"It was looking good but then things just got out of whack," he said.

Also struggling throughout the game were Arizona's special teams. Though kicker Mark McDonald nailed all three of his field goals, the Wildcats' punters were erratic and inconsistent.

Tomey has already decided that the team needs one more scrimmage, set for tomorrow night, before it's ready for Hawaii.

"Obviously, we'd love to be in midseason form right now, but that won't happen at this stage," he said. "There are NFL teams out there saying the same thing. We're just looking for effort and attitude. When the players see the tape of tonight's scrimmage, they'll learn what they need to do differently.

"It's all about learning right now."