Splitting the time
By Dan Rosen
Arizona Daily Wildcat
August 24, 1998


Send comments to:
city@wildcat.arizona.edu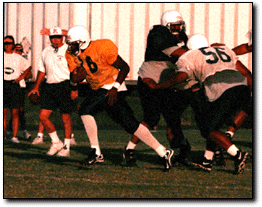 Tanith L. Balaban
Arizona Daily Wildcat

Sophomore quarterback Ortege Jenkins attempts to run down the field in a practice game at Camp Cochise Aug. 18. Jenkins and Keith Smith are scheduled to share starting duties and playing time through the first five games of the season.


Summer ball is over and the Wildcats are just 10 days away from their opener in Hawaii against the Rainbows, yet they still do not have a set starter at quarterback.

The battle between junior Keith Smith and sophomore Ortege Jenkins becomes more interesting as they approach opening day.

Smith, as a freshman in 1996, set a school record with a 60.6 percent completion rate, good enough for second in the Pacific 10 Conference. He also set a freshman record with 502 yards of total offense against California.

After a banner year in which The Sporting News gave him freshman All-America honors, Smith was the starter in 1997 until an injury on the first play of the second half against UCLA forced him out of the lineup.

Jenkins, a backup wide receiver at the time and third string quarterback, took over as a redshirt freshman and finished the season with 19 touchdowns, a Pac-10 freshman mark and one shy of the school mark.

The sophomore from Long Beach, Calif., and the junior from Newbury Park, Calif., have given head coach Dick Tomey a headache that any coach wouldn't mind having.

"Maybe during the season one will emerge as the best, but we have been taking stats through spring and Camp Cochise and it is unbelievable how even it is," Tomey said.

The controversy between the two has not become a rivalry, as the two are roommates and friends.

"We both want to take all the snaps as we are trying to battle for the position, but if Keith gets it I will be his number one supporter on the field and if I get it he will be my number one supporter," Jenkins said.

If one were to concentrate on just the stats from Friday's scrimmage it would seem that Jenkins has the lead as he was 8 of 18 for 133 yards and a touchdown pass to freshman wide receiver Malosi Leonard, while Smith was 1 of 6 with an interception by senior cornerback Chris McAlister. Smith also had four rushes for 14 yards.

"If we played Hawaii tonight we would have gotten our butts kicked," Smith said. "It's a scare and we know that we have to bring our game every practice. O.J. and I learned a lot from this scrimmage."

As the battle presses on with no set time on deciding who the No. 1 guy will be, the Wildcat receivers will continue to try and get used to the situation of having two different quarterbacks with two different rhythms.

"We just have to be ready for whoever is out there," junior wide receiver Dennis Northcutt said. "We know them well and they know us so we just have to concentrate on playing no matter who is in the game."

Both Smith and Jenkins are coming into the fall after having put in a lot of time over the summer and at Camp Cochise.

"I think O.J. and I are handling the situation very well," Smith said. "To us it doesn't matter who is on the field as long as we are winning."