Greer takes charge of UA defense
By Chris Jackson
Arizona Daily Wildcat
August 24, 1998


Send comments to:
city@wildcat.arizona.edu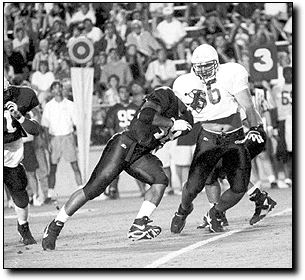 Nicholas Valenzuela
Arizona Daily Wildcat

Senior defensive tackle Daniel Greer (48) tries to get past freshman center Stephen Grace (66) and make the tackle during Friday night's scrimmage at Arizona Stadium. Team members have commented on Greer's motivation and hard work during Camp Cochise.


When the Arizona defense made a bad play at Camp Cochise, the coaches let them know it.

Daniel Greer also let them know it, in a way no one would forget.

The 6-foot-2-inch, 264-pound defensive tackle became the defense's vocal leader while at camp, getting in the face of anyone he didn't feel was measuring up to the level he expected the player to be at.

"I'm one of the senior guys now," he said. "I had to take over that spot. The ball's in my corner and I want to leave here on a good note."

Greer won the team's Marvin Gentry Award as the top defensive lineman last year. He had 33 tackles, 22 unassisted, while finishing third on the team with 4.5 sacks. Thirteen of his tackles were for a loss, good enough for second on the team.

"Whatever I've learned in the past, I need to pass on to the new guys," he said.

Sophomore outside linebacker DaShon Polk, whom Greer said was one of the players who has really impressed him so far, called Greer "one of the hardest workers on the team. He tries so hard to be the best, always trying to get better."

Polk said that no one minds the upfront way Greer deals with people when they make a bad play.

"He's a motivater," Polk said. "He wants even the third or fourth string guys to know all the plays, and if you don't he'll make sure you remember."

In addition to Polk, Greer said he was also impressed by sophomore defensive ends Idris Haroon and Joe Tafoya, plus senior defensive tackle Chima Ugwu "for his goal line play."

Greer said that while he was at Cochise the defensive backs impressed him the most.

Senior cornerback Chris McAlister returned the compliment.

"I think Greer is a solid player," he said. "He's a better player now than he was a year ago, and that's what's necessary here. He gave himself a couple of pluses by working out and training so hard over the summer."

Greer said he spent camp "taking each day at a time.

"I saw it as each day was drawing toward a better season," he said. "Each day I was becoming a better player and we were becoming a better defense."

Greer's linemates have yet to be set in stone for the opener at Hawaii Sept. 3. Candidates include Haroon, Tafoya, Ugwu, Anthony Thomas and Eli Wnek. The starting lineup is not expected to be finalized until after tomorrow night's scrimmage, the team's second, at Arizona Stadium.

Greer did not see much playing time in Friday's scrimmage, the team's first since returning from Cochise, but he was still glad to get out onto the field.

"This is game atmosphere," he said. "There's more of a grind at camp. You come out here and you take off your boots and the heavy stuff and you put on the smooth stuff and start playing real ball. It's more of a mental drain at camp. I'm just glad to be back out here."