Likins recruiting new marketer
Sarah Guzzardo
Arizona Daily Wildcat
September 4, 1998


Send comments to: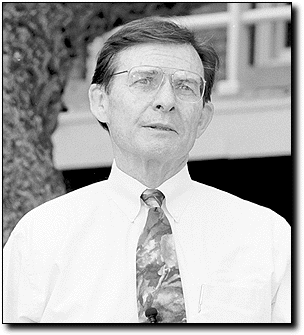 Wildcat File Photo
Arizona Daily Wildcat

Peter Likins


The search is nearly over for the person who will fill the university's newest administrative position that UA President Peter Likins hopes will enhance the school's public image.

The new position of vice president for advancement was opened to applicants nationwide in June and has attracted about 140 people.

"We are close to making a public announcement about the group of candidates picked for a campus interview," said Richard Eribes, chairman of the search committee and dean of the UA College of Architecture.

The new administrator will establish and maintain the university's relationships with outside organizations and report directly to University of Arizona President Peter Likins.

"These constituencies include neighbors, alumni, the state Legislature, the federal government and corporations that are a key to the success of this university," Likins said.

Sixteen administrators reported directly to Likins initially on issues, which included internal affairs, relationships with benefactors, state and local governments and the media. Five of these administrators will eventually report to the vice president for advancement.

Likins said the university has very effective people working independently with parties outside the university, but added he believes they will work better as a team under the leadership of the vice president.

He said the new administrator must be comfortable working with the community groups as well as internal employees such as professors, which takes a flexible person.

"The vice president has to be a strong visionary leader. He or she will be working in a very diverse arena," Likins said.

The search committee developed a list of possible candidates for Likins to review Tuesday, Eribes said. The president hopes to bring three to four applicants to the UA for an interview.

The names of the finalists some time next week, according to Eribes. After the president chooses the candidates, he still has to make sure they are interested in the position, Eribes said.

Likins said once he has narrowed the search down to three to four candidates, it could take weeks to months to complete the interview process and make a final decision.

He implemented a similar vice president for advancement position in the early 1990s while he was president at Lehigh University in Pennsylvania. This past year, Lehigh eliminated the position in favor of two separate administrators.

The new vice president's salary will be upwards of $100,000 a year, Likins said.

Sarah Guzzardo can be reached via e-mail at Sarah.Guzzardo@wildcat.arizona.edu.