Kugler, write-in candidate eliminated in ASUA primary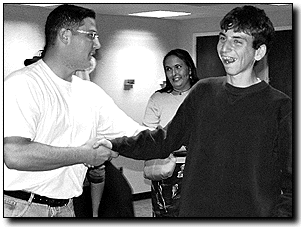 Eric M. Jukelevics
Arizona Daily Wildcat

ASUA presidential candidate Greg Kugler (right) shakes ASUA Appropriations Board member Derick Kurdy's hand (left) last night in the Memorial Student Union's Tucson room. Kugler was eliminated from the presidential race after receiving only 19.5 percent of the votes in the organization's primary election.


ASUA presidential candidate Greg Kugler lost to his two competitors late last night after the lowest primary election voter turnout in 10 years.

With 4 percent of students voting, Kugler, a finance junior, was defeated after garnering 19.5 percent of student votes.

University Activities Board President Caitlein Ryan and Associated Students Executive Vice President Cisco Aguilar will advance to the March 3 and 4 general election.
President
Greg Kugler	 269  19.52%
Caitlein Ryan    363  26.34%
Cisco Aguilar    722  52.39%
Write-in votes    24   1.74%

Executive VP
Benjamin Graff  1027  92.19%
Write-in votes    87   7.81%

Administrative VP
Viviane Safrin   957  83.73%
Vene Aguirre      95  N/A   
Write-in votes   186  16.27 % 
"Obviously, the students did not want a change," Kugler said. "They wanted the status quo."

ASUA Elections Commissioner Anthony Hill announced the results last night to about 50 people in the Memorial Student Union's Tucson room.

Kugler received 269 votes - 94 less than Ryan. Aguilar received 722 votes.

Ryan said although she is pleased to be advancing to the general election, she was disappointed with the results.

"It's frustrating that students are continuing to vote for the same government they're frustrated with," Ryan said. "I did not expect the low numbers I got."

Kugler said he will throw his support to Ryan, although Aguilar is "a good guy."

"Right now, ASUA has a bad reputation," Kugler said. "If Cisco is president, there will be that same trend."

Aguilar said although he led by a large margin, he does not want to focus on the numbers.

"I have a lot more work to do," Aguilar said. "Anything can happen in the next week."

Aguilar added that both Kugler and Ryan have been "really good sports.

"It's good to see that people care so much about (being a part of) ASUA," he said.

Hill said students who dislike ASUA likely stayed away from the polls.

"The core support was (people) who support ASUA in general," he said.

Hill pointed out two factors that led to the record-low turnout.

"Number one, you've got a poor quality of candidates, and number two, you've got a low number of candidates," he said.

Hill would not elaborate on the meaning of "poor quality." He said he had "no expectations," but that there were no surprises in the results.

"Mediocrity reigns, I guess," Hill said.

The uncontested race for executive vice president left voters with one choice, ASUA Sen. Ben Graff, who received 1,027 votes.

In the administrative vice presidential race, write-in candidate Vene Aguirre, a political science junior, was eliminated, receiving 95 votes. Her opponent, Viviane Safrin, garnered 957 votes.

Aguirre could not be reached for comment last night.

Safrin, a history, English literature and psychology sophomore, said she did not concentrate on Aguirre's write-in efforts.

"I wasn't really worrying about it," Safrin said. "I was focusing on my own campaign."

Earlier this month, Safrin was sanctioned for violating ASUA's election code by advertising her candidacy prior to the official campaign kick-off date. Safrin said she hopes to put the controversy behind her.

"People realized that everyone makes mistakes and they need to be given a second chance," she said.

All prospective senators will advance to the general election.

Leading the group was Lauren Beth Hickey, a molecular and cellular biology sophomore, with 594 votes. After Hickey came retailing and consumer studies junior Shane Brogan with 560 votes, biochemistry senior Ryan Roa with 516 votes, business management freshman Dwight Maloney with 504 votes and biology sophomore Amanda Martin with 460 votes.