UA students to take part in Clinton visit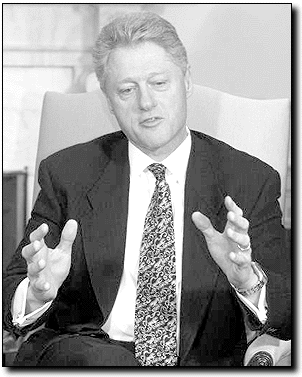 Wildcat File Photo
Arizona Daily Wildcat

President Bill Clinton He is expected to talk about Medicare and Social Security during his noon-time speech at the Tucson Convention Center. Every public seat has already been given away by Pima County and the Tucson City mayor's office.


As Tucson focuses on President Clinton today, select UA students will have a hand in the noon-time gala that accompanies the nation's highest officer.

The Democrat Club and the University of Arizona Mariachi band will work behind the scenes and on stage before Clinton's scheduled speech at the Tucson Convention Center.

Seventeen members of the UA Democrat Club will act as ushers during the speech and work outside the building.

Stuart Rodgers, executive president of the club, said his group's involvement is "extremely cool.

"There's not that many volunteers so we feel we're a very important part of the speech," Rodgers said. "The Pima County Democrats said they guaranteed us an introduction with the president. But they (White House officials) said there was no guarantee, so we'll see."

Clinton is expected to talk about Medicare and Social Security during the TCC speech. Every public seat has already been given away by Pima County and the Tucson City mayor's office.

Before Clinton's speech, the University of Arizona Mariachi, a group of about 18 students, faculty and staff, will perform.

Alfred Gallegos, a band member and research specialist at the University of Arizona Cancer Center, said Rep. Ed Pastor, D-Tucson, helped the Mariachis to win their chance to perform.

"It's quite an honor," Gallegos said last night. "I wasn't prepared but we're all pretty excited."

Gallegos added that friends of his fellow musicians are equally excited about the opportunity.

The group will perform inside the TCC's Music Hall at 11:30 a.m., Gallegos said, adding that the musicians know 30 songs and have yet to decide which to use during the show.

"They all sound pretty nice," he said. "Everybody we tell can't believe it. Hopefully, we'll be able to meet the president."

While the Mariachi band and the Democrat Club appear to have a shot at meeting the president, White House press agents said Clinton will not stop at the UA. University officials have not been granted an opportunity to speak personally with him, said Sharon Kha, the University of Arizona's associate vice president for communications.

"There will be no private time with President Clinton," Kha said.

While parts of Clinton's post-speech schedule have not been disclosed, the president will visit the Arizona Diamondbacks spring training camp at Tucson Electric Park.

He will leave for San Francisco at 5:30 p.m. from Davis-Monthan Air Force Base.

UA President Peter Likins will attend today's Arizona Board of Regents meeting at University Medical Center, and will not be present at Clinton's speech.

But university officials were given 25 tickets to Clinton's address. The scheduled UA attendees include Provost Paul Sypherd and his wife Linda, Vice President for Undergraduate Education Michael Gottfredson and Vice President for Student Life Saundra Taylor.

Kha will also be in the audience, along with the Margaret McGonagill, the UA's assistant vice president for federal relations.

Associated Students President Tara Taylor was given several tickets for herself and other ASUA members, Kha added.