UA Democrat Club works for Clinton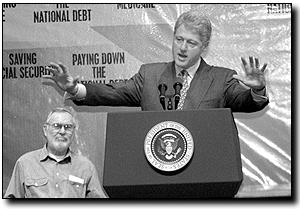 Wildcat File Photo
Arizona Daily Wildcat


The UA Democrat Club will have a difficult time improving on its first week in existence.

After forming less than one week ago, the group provided 17 volunteers for President Clinton's speech yesterday, and had the privilege of hobnobbing with the honored guest afterwards.

"I met the president and shook his hand," said group member Melinda Koslow, a University of Arizona undecided freshman. "I was practically in tears and smiles."

The club worked with the Pima County Democrats to provide ushering services during the president's speech yesterday at the Tucson Convention Center. Half of the volunteers at the event were club members.

The group, which was chartered last week, had its first meeting Tuesday and by Wednesday, had 16 members join the six-member board. Member Shauna Reedy, a UA marketing freshman, said the group needed to be proud of its quick accomplishment.

"I thought our club did a good job of getting this together so quickly," Reedy said.

The club's Executive President Stuart Rodgers said he thought the responsibility that the group took on showed the city that university students can make a difference.

"It is exciting to have 17 people say they will show up and then have them there," he said.

Rodgers added that considering the group's young age, its level of involvement also was very satisfying.

"We felt like we were really important," Rodgers said. "I felt like I was on the president's staff."

But regardless of the job they did yesterday, the members still consider meeting Clinton the biggest part of the day. Unfortunately, not every member present will have that memory.

"I didn't get to see the president," said Amanda Pietrucha, a UA criminal justice freshman. "I got knocked aside by a vicious lady - someone as anxious as the rest of us."