UA Mariachi band entertains president's TCC audience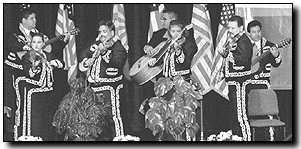 Nicholas Valenzuela
Arizona Daily Wildcat

The University of Arizona Mariachi group plays for the attendants of President Clinton's visit to Tucson at the TCC Music Hall before his arrival.


The University of Arizona Mariachi band had its show cut short during President Clinton's visit yesterday - but don't expect the members to complain.

Originally scheduled to perform 30 minutes before Clinton's arrival at the Tucson Convention Center, the U.S. Secret Service told the band it only could play two songs. Any disappointment from the setback soon dissipated.

"It unnerved us at first because we prepared so long and so hard," said band member Jeff Uhrig, a UA political science junior. "But we were able to get two good songs out and the crowd really appreciated it. It was a real honor that will stick with us."

The band, comprised of about 18 UA students, faculty and staff, was formally invited Tuesday to play during Clinton's visit. Rep. Ed Pastor, D-Tucson, helped the band get the job.

The biggest honor for Uhrig and the other band members came after Clinton's speech, in a back-stage waiting room.

"As soon as the president finished his speech, he came in, thanked us for being here and shook each of our hands," said Ryan Doyle, a UA marketing and finance senior. "That was enough for me."

In anticipation of playing for the president during his Tucson visit, the band practiced often during the past two weeks.

They snuck in one last practice yesterday morning to fine tune their material before the big event. It was a move appreciated by band member Alfred Gallegos yesterday afternoon.

Gallegos, a research specialist at the UA Cancer Center, received a page during Clinton's speech from a number he initially did not recognize.

"A friend of mine in Ohio paged me and said she saw me on TV," Gallegos said. "They saw us all the way to Ohio. That was pretty exciting."