Arizona looks to rebound against top dog Stanford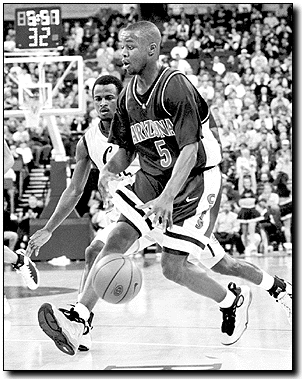 Wildcat File Photo
Arizona Daily Wildcat


OAKLAND - After losing badly to California last night, the UA men's basketball

team's game against Stanford may be more important than ever.

While the Wildcats may not have a shot at winning the conference title anymore, senior point guard Jason Terry said the team is lacking defensive intensity and that something had better be done about that before the NCAA Tournament.

"Forget about the title now," Terry said. "We have to win a basketball game and get back on track."

But that won't be easy against a Stanford team that has plenty of motivation for beating the Wildcats despite having the Pacific 10 Conference title all but locked up.

Arizona beat Stanford 78-76 in Tucson Jan. 28, beginning a stretch of games where Stanford played well below its potential, especially in a home loss to Southern Cal two weeks ago.

The first matchup between the Wildcats and the Cardinal came down to a battle between Wooden Award nominees Terry and Arthur Lee, both the leading scorers on their teams at the time.

Lee struggled, going just 2 for 11 from the floor for 10 points in 32 minutes, and drew criticism from head coach Mike Montgomery for lackluster defense.
No. 7 Arizona vs.
No. 6 Stanford
(20-5, 11-4 Pac-10) (23-5, 13-2)
Tip-off: 8:30 p.m. Saturday at Maples Pavilion in Stanford, Calif.
TV/Radio: Televised nationally on FX (Cox Cable ch. 18); Broadcast on KNST (790 AM)
Game Notes: In the first meeting between the two teams, Jason Terry scored 29 points, including a jumper with 3.4 seconds left to go to give the Wildcats a 78-76 win. . .UA has won 19 of the past 23 meetings between the two teams. . .Stanford has had the same starting lineup all 27 games this season. . .Arizona needs to win this game and hopes that Stanford loses one game in Oregon in order to take home its second straight Pac-10 title.
Terry, on the other hand, had five rebounds and four assists to go along with a game-high 29 points. Terry also happened to hit a fall-away jumper from eight feet out with 3.4 seconds left to give the Wildcats the two-point victory.
"Stanford definitely has payback on their minds from what we did to them," Terry said. "We better come out with some defensive intensity or it's going to be a long trip back to Tucson."
While Arizona won the game, Stanford did outplay the Wildcats in several aspects, most importantly in rebounding, where Stanford held a 36-29 advantage.
One reason for the disparity was Stanford forward Mark Madsen's physical play, keeping UA freshman Michael Wright from getting into the game.
Wright finished with only nine points to go with one rebound, while Madsen grabbed nine rebounds to go along with 11 points.
"It's going to be a tough matchup," Wright said of the rematch with Madsen. "He's strong, real strong and he moves his feet real well."
But while Madsen took care of Wright, UA center A.J. Bramlett collected four blocks to go with 16 points and seven rebounds while holding Cardinal 7-foot center Tim Young to 12 points and three rebounds.
While the Cardinal have revenge on their minds, they also might hold an advantage in that they are more consistent and experienced than the Wildcats at every position beside point guard and center.
The Cardinal also have a much deeper bench with David Mosely, Jarron Collins and Mike McDonald producing more offensively than Eugene Edgerson, Justin Wessel, Traves Wilson and Rick Anderson.
"It's a difficult matchup for anybody to play against Stanford," Arizona State head coach Rob Evans said. "They've got a well-rounded basketball team and they just know how to win basketball games."