Wildcats hang on to hold off California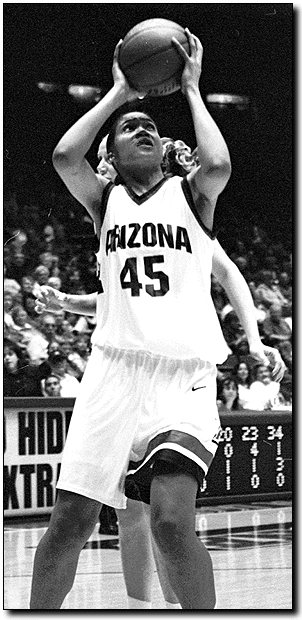 Wildcat File Photo
Arizona Daily Wildcat

Freshman forward Elizabeth Pickney (45) shoots the ball during yesterday's game at McKale Center. Pickney had 14 points during Arizona's 72-65 win over California.


For the last few weeks, the UA women's basketball team has made short-term goals of winning the halves of its games.

Arizona won the first half against California last night and had enough of a lead to almost let the second half slip away.

The Wildcats defeated the Golden Bears 74-65 at McKale Center. After UA jumped out to a 39-28 lead at halftime, Cal won the second half 37-35.

Arizona moves to 15-9 overall, 10-5 in the Pacific 10 Conference. Cal drops to 10-14, 4-11.
Arizona vs. Stanford
(15-9, 10-5 Pac-10) (16-10, 12-3)
Tip-off: 2 p.m. Saturday at McKale Center
TV/Radio: Televised on Fox Sports Arizona (Cox Cable ch. 22)
Game Notes: Arizona and Stanford are looking to play themselves into the NCAA tournament, and a UA win in the final regular season home game would go a long way in impressing the selection committee . . . last year, Reshea Bristol's game-winning three-pointer stunned Stanford, who had not lost a conference game in close to four years . . . Stanford beat Arizona in Palo Alto, Calif., earlier this season 79-64.
"It didn't need to be close since we let them back in the game three times," UA head coach Joan Bonvicini said. "At halftime, we were dominating the stats, but when you looked at the score, it was still close."
Felecity Willis led Arizona with 24 points on 9 of 12 shooting. Elizabeth Pickney had 14 points and Lisa Griffith had 13 points. Angela Lackey led the way with eight rebounds, followed by Reshea Bristol with seven.
"The younger players are starting to realize that defense is the key to winning games," Willis said. "We had some lapses, but we played pretty well."
Willis nearly joined Griffith and Julie Brase as Wildcats who have had broken noses this season when she got hit in the nose while going after a rebound in the second half.
"I thought it was broken," she said. "It went numb and I couldn't feel it. I really didn't want to join that (broken nose) party."
ARIZONA 74, CALIFORNIA 65
CALIFORNIA (10-14)
Ashbaugh 1-5 0-0 2, Bowie 6-14 0-0 15, Leander 3-5 4-6 10, Johnson 3-8 2-2 8, Smith 6-18 2-2 15, Jackson 0-0 0-0 0, Corley 6-9 1-2 13, Forney 0-0 0-0 0, Churchill 0-0 0-0 0, Kennon 1-1 0-0 2, Lewis 0-0 0-0 0. Totals: 26-61 9-12 65.

ARIZONA (15-9)
Lackey 2-7 1-2 5, Pickney 5-6 4-5 14, Griffith 4-11 2-2 13, Brase 2-8 2-2 8, Willis 9-12 5-6 24, Bristol 2-8 1-6 5, Taylor 2-6 1-2 5, Mitchell 0-0 0-0 0. Totals 26-58 16-25 74. Halftime - Arizona 39, California 28. Three-point goals - California 4-12 (Bowie 3-7, Smith 1-3, Corley 0-1, Churchill 0-1) Arizona 6-15 (Griffith 3-7, Brase 2-4, Willis 1-3, Bristol 0-1). Rebounds - California 35 (Leander 10), Arizona 43 (Lackey 8). Assists -California 11 (Johnson, Smith 3), Arizona 18 (Brase, Bristol 5). Total fouls - California 20, Arizona 13. A - NA.
LaKeisha Taylor had a good game, despite only scoring five points. She had five rebounds, most of them second-effort offensive rebounds, and she helped apply some full-court pressure when the Wildcats needed some life.
"When we put the pressure on, it really helped," Taylor said. "We had a few spurts where we put a lot of pressure on the ball."
Cal dropped to 0-10 on the road this season. After sweeping the Washington schools last weekend, the Bears thought they had the confidence to come in and upset Arizona.
"At this point of the season, we felt we were prepared to win a ball game," Cal head coach Marianne Stanley said. "I'm disappointed for the players because I want them to win. We're not going to measure ourselves by near misses."
Bonvicini said the team will need to play a lot better if it is going to beat Stanford (16-10, 12-3) tomorrow. Stanford beat Arizona 79-64 last month in Palo Alto, Calif.
"We had a tough time matching up with them last time," she said. "We've got to do a much better job defensively and take away their transition game."
The final home game of the regular season is an important one for Arizona. Both Arizona and Stanford are hoping to clinch NCAA Tournament spots.
"Both teams are trying to play themselves into the tournament," Bonvicini said. "For us, this is a revenge game. This is our final home game and a huge one for us."