Women close in on tourney birth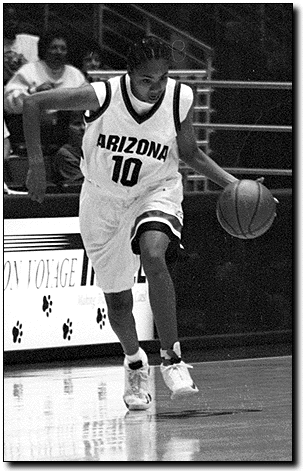 Eric M. Jukelevics
Arizona Daily Wildcat

Sophomore guard Reshea Bristol (10) drives down the court Saturday night against Stanford at McKale Center. Bristol had 13 points and four rebounds as the women's basketball team defeated the Cardinal 81-67.


As the NCAA Tournament approaches, the UA women's basketball team is using every opportunity to prove it belongs in the 64-team field.

Saturday at McKale, the Wildcats (16-9, 11-5 Pacific 10 Conference) made a big statement by defeating Stanford (16-11, 12-4) 81-67.

"I'm very happy," UA head coach Joan Bonvicini said. "This is a big win for us and a very big step towards the NCAA Tournament."

Elizabeth Pickney led Arizona with 18 points, followed by Angela Lackey with 16, Reshea Bristol with 13 and Felecity Willis with 12.

Pickney had six rebounds.

"We are very excited," Pickney said. "We knew if we won this game, it would help get us into the tournament, so we were really fired up."

With Stanford freshman Lindsey Yamasaki coming off the bench and going 8 of 9 from three-point range, Bonvicini knew the team needed to do something different defensively to stop her.

During a 20-second timeout in the second half, Bonvicini switched to a diamond-plus-one defense that stayed mostly zone, but allowed Yamasaki to be guarded man-to-man. The team had never worked on that before, and Bonvicini recalled only one time she used it before, in 1987 when she was the head coach of a Long Beach State team that made it to the Final Four.
The Box
ARIZONA 81 STANFORD 67
STANFORD (16-11)
Dimson 3-6 2-2 8, Donaphin 5-8 1-1 11, Moos 3-13 3-5 9, Freuen 3-15 0-1 7, Flores 0-4 2-4 2, Batastini 0-1 0-0 0, Gbalazeh 0-0 0-0 0, Izidor 1-2 0-0 2, Yamasaki 9-11 2-2 28, Enghusen 0-0 0-0 0. Totals 24-60 10-15 67.
ARIZONA (16-9)
Lackey 5-13 6-6 16, Pickney 3-9 12-13 18, Griffith 2-7 2-2 7, Bristol 4-10 5-10 13, Willis 5-7 1-2 12, Callahan 0-0 1-2 1, Brase 2-5 4-4 8, Taylor 3-3 0-0 6, Mitchell 0-0 0-0 0. Totals 25-54 31-39 81.
Halftime - Arizona 36, Stanford 35. Three-point goals - Stanford 9-25 (Yamasaki 8-9, Freuen 1-10, Flores 0-4, Moos 0-1, Batastini 0-1), Arizona 2-8 (Willis 1-1, Griffith 1-5, Brase 0-1, Bristol 0-1). Fouled out - Donaphin, Moos, Taylor. Rebounds - Stanford 44 (Moos 9), Arizona 31 (Pickney 6). Assists - Stanford 15 (Flores 9), Arizona 14 (Griffith 5). Total fouls - Stanford 27, Arizona 19. A - 2,810.

Yamasaki finished with 28 points, but she only made one basket after Arizona made the adjustment. Even though it worked well on Saturday, Bonvicini doesn't see the diamond-plus-one becoming a part of the team's defensive setup.

"Hopefully, nobody will get so hot that we need it again," she said.

The team did not have any problems with the switch.

"When we went into the diamond, we had to learn it in about 20 seconds," Bristol said. "The whole team adjusted well."

Arizona was aggressive on both ends of the court, but kept control of the ball for a season-low nine turnovers. On defense, they forced 26 turnovers and scored a lot of their points because of it.

Arizona was at its best on the fast break with Bristol, Willis and Lisa Griffith leading the charge. Bristol made some highlight reel moves with her assorted variety of Kobe Bryant-like bounce passes, no-look passes and athletic layups.

"That's just my game," she said. "I didn't plan any of it. I'm unselfish and I'll give the ball up if somebody's open."

The teams had contrasting styles - Arizona liked a fast tempo, Stanford liked a slow tempo - and Arizona was the team dictating the play.

"We played our game and forced them to play our game," Bonvicini said. "Offensively, we were very aggressive and got a lot of our points in the transition game."

One of the keys to the game was stopping Stanford guard Milena Flores and her penetration into the lane, where she gave Arizona fits in the teams' first game this season by dishing the ball back outside.

"We really took her out of being a factor," Bonvicini said.

Arizona dominated in the paint, led by the play of Pickney and Lackey. Even though they got outrebounded 40-28, Bonvicini said that Arizona was a much more patient team.

Despite being a freshman, Pickney is already establishing herself as one of the best post players in the Pac-10.

"People say I'm timid," she said. "I just like to prove them wrong by trying to be more aggressive."

Bonvicini challenged Lackey to do the little things to help Arizona win the game, and Lackey responded.

"This was a must-win game because we only have a couple of games left and we're trying to get in the tournament," Lackey said. "They needed this one too, so it was a big game."