Fired up Stanford 'thrashes' Wildcats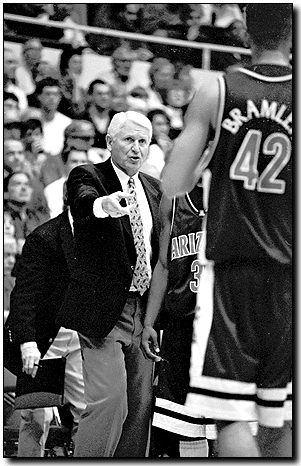 Tanith L. Balaban
Arizona Daily Wildcat

UA men's head basketball coach Lute Olson shouts directions at senior point guard Jason Terry (31) and senior center A.J. Bramlett (42) during the Wildcats' 98-83 loss to the Stanford Cardinal Saturday night at Maples Pavilion. Stanford won its first ever Pac-10 title after beating UA 98-83.


PALO ALTO, Calif. - Sometimes you just have to take losses graciously.

After getting blown out by Stanford 98-83 Saturday night at Maples Pavilion in a game the Wildcats were never in, the UA men's basketball team (20-6, 11-5 Pacific 10 Conference) paid respects to a superior Cardinal squad that out-played them in every aspect of the game.

"It was a good 'ol fashioned thrashing," UA head coach Lute Olson said with a grin after the game. "We were pleased we got them one time but this was a mismatch."

Olson said he was pleased with the Wildcats' effort, but that going into Maples to play Stanford on senior night for Arthur Lee, Kris Weems, Peter Sauer, Tim Young and Mark Seaton was just too tough a task for his freshmen-laden team. It was especially tough considering Stanford (24-5, 14-2) could clinch its first Pac-10 title on its home floor.

After a pregame ceremony in which the five Stanford seniors were honored, the Cardinal came out on fire, taking a 40-20 lead after Weems hit one of his five first half three-pointers.
The Box
No. 6 STANFORD 98 No. 7 ARIZONA 83
ARIZONA (20-6)
Wright 1-1 1-4 3, Jefferson 4-7 5-8 13, Bramlett 6-14 3-5 15, Douglas 6-12 2-3 15, Terry 7-29 4-5 21, Edgerson 3-4 5-5 11, Anderson 0-5 1-2 1, Wessell 1-1 1-2 3, Wilson 0-1 1-2 1. Totals 28-74 23-36 83.
STANFORD (24-5)
Sauer 3-5 4-5 11, Madsen 4-6 1-2 9, Young 2-2 2-2 6, Weems 7-13 3-5 23, Lee 7-15 12-12 29, McDonald 1-4 2-2 4, Moseley 0-1 3-4 3, Jar.Collins 3-3 7-7 13, Seaton 0-1 0-0 0. Totals 27-50 34-39 98.
Halftime - Stanford 43, Arizona 34. Three-point goals - Arizona 4-19 (Terry 3-11, Douglas 1-4, Jefferson 0-1, Anderson 0-3), Stanford 10-21 (Weems 6-10, Lee 3-6, Sauer 1-2, Moseley 0-1, McDonald 0-2). Fouled out - Arizona, Wright, Edgerson, Jefferson. Stanford, Young, Madsen. Rebounds - Arizona 39 (Bramlett 10), Stanford 34 (Sauer 7). Assists - Arizona 10 (Jefferson 6), Stanford 21 (Lee 8). Total fouls - Arizona 29, Stanford 30. Technicals - Arizona coach Lute Olson. A-7,391.

Weems had 17 points in the first half, prompting concern from Olson about the Wildcats' defensive intensity.

"I'm not worried about us offensively, I'm worried about us defensively," Olson said. "You can't go into half with a guy with 17 points."

The Wildcats would come back to bring the Stanford lead down to nine at halftime, but that would be as close as they got. The Cardinal shot 58 percent in the second half compared to the Wildcats' 32 percent and the lead was back up to 21 with 10 minutes left.

It didn't help Arizona that freshman forward Michael Wright, third on the team in scoring with nearly 15 points per game, played only six minutes, fouling out with only three points and three rebounds.

While Wright blamed officials for calling ticky-tack fouls, saying, "I guess they wanted me out of the game," Olson said coaches had warned Wright about being too physical with Cardinal forward Mark Madsen in Stanford.

"We told him, 'You can't get into arm wrestling matches here because it's not going to come out in your favor,'" Olson said. "He probably thinks we're a bit smarter now."

The game was so physical that nine fouls were called in just the first three minutes of the second half. Overall, 59 fouls were called during the game and Madsen, Young, Wright, Richard Jefferson and Eugene Edgerson all fouled out.

While the Wildcats struggled with their free throws, going 23 for 36, the Cardinal capitalized from the line, hitting 34 of 39 free throw attempts, including 12 for 12 from Lee.

Whereas UA point guard Jason Terry outplayed Lee in every way in Arizona's 78-76 win at McKale Center Jan. 28, exactly the opposite was the case Saturday as the Stanford defense kept the UA point guard under wraps, forcing him into a 7 for 29 shooting performance.

"I didn't see an open look all game," Terry said. "Everywhere I went, they had someone double (teamed) or clogged the lane so I couldn't penetrate. I can't do it all by myself."

Lee, on the other hand, had a career high 29 points along with eight assists. Weems, Lee's backcourt mate, chipped in 23 points, including six three-pointers.

"We weren't out on their shooters and to their credit they hit their shots," said Jefferson, who finished with 13 points and six assists.

Olson said he was pleased with the offensive production from Jefferson and guard Ruben Douglas, who had 15 points, but they needed to be more aggressive in getting open when Terry gets in trouble.

"Our wings have to be more active," Olson said. "They tend to get down in the corners. When people are getting doubled, you can't stay in the corner and waive your hand that you're open."

Despite a raucous crowd - the student section, otherwise known as the "6th Man Club," was full an hour before the 7:30 p.m. PST tip-off - Jefferson said they had no effect on Arizona's performance.

"Zero," Jefferson said when asked about the crowd's impact. "The crowd can't make you make shots. The crowd can't make you miss shots. All they can do is give you extra emotion and that can work both ways."

With two games left in the regular season against Southern Cal Thursday and UCLA Saturday, Jefferson said the Wildcats need to get themselves straight mentally before the NCAA Tournament.

"Physically, we're one of the best teams in the country," Jefferson said. "But mentally... we've got to get some practices and get going."