Soccer team learns first lessons during the weekend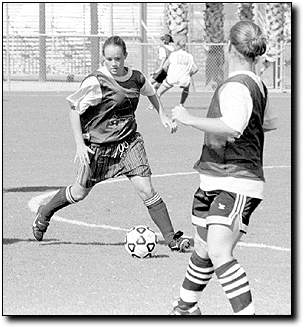 Aaron Wickenden
Arizona Daily Wildcat

UA freshman midfielder Twila Kaufman (8, left) tries to get around sophomore goalie Inger Airheart (1) at a practice Aug. 29. The Wildcats lost against Wyoming Friday but won against Auburn Saturday.


The UA women's soccer team regained its composure with a win against Auburn Saturday afternoon after suffering a disappointing loss to Wyoming Friday night.

"We refused to lay down and die again," said sophomore defender Kate Nighswander-Will, referring to her team's state of mind after their loss to Wyoming.

The Wildcats fell to Wyoming 1-0 - their first-ever loss to the Cowgirls, despite out-shooting them 17-9. But the Wildcats managed to seal a 2-1 win against the Auburn Tigers on the second day of the weekend trip to Laramie, Wyo., out-shooting the Tigers 20-10.

"It was very disappointing playing Wyoming. We outshot them, but just struggled with getting the ball in the net. They came at us hard and took us off our game," UA assistant coach Bruce Caris said. "This game showed us we have to take every opponent seriously. Every opponent we meet is going to be a tough opponent and we have to respect each individual team in that light."

The Wildcats were able to put the loss behind them and come together as a team with a tremendous half of soccer against Auburn, Caris said.

Arizona was down 1-0 at halftime in Saturday's game when the team finally "dug deep" to pull off the win, sophomore midfielder Kendra Gefvert said.

"We were coming off a hard loss that we really expected to be our win. We knew our football and volleyball teams had pulled off a win, and we wanted to bring back a win, too. We just never gave up," she said. "We knew Wyoming had beaten us to the ball and that opened our eyes. So, we went out there Saturday and decided we would be putting the press and this time it would be us first at the ball."

It was the Wildcats' freshmen that took that initiative against Auburn.

Midfielder Kimberly McGehee isolated a Tiger defender in the second half and passed the ball through the defender's leg, commonly referred in soccer as "nutmegging."

Fellow freshman midfielder Twila Kaufman was waiting on the other end to receive the pass and send the ball into the net, tying the game.

And with just 26 seconds left, Kaufman sealed the victory for the Wildcats with a goal off a corner kick.

"Our team did not want to deal with that awful feeling in our stomachs of a loss again. So we came back, after halftime, with our spark and enthusiasm back," Nighswander-Will said.

The team did receive a wake-up call when dealing with both the team and atmosphere of Wyoming, Caris said.

"The altitude was very real," he said. "It was harder for the players to catch their breath, and their legs were heavy. The air was a tough factor, but also a discouraging factor was our inability to get the ball in the net against in Wyoming. We had control of the game and did everything but score."

Before the team travels to Albuquerque next weekend to face South Alabama and New Mexico, the team will work on its finishing, Caris said.

"We'll spend a lot of time in front of the net. We put out 40 shots this weekend and only got two goals back for it. We're going to practice shooting a lot so we don't see a ratio like this again," Caris said.

Gefvert echoed his thoughts, adding, "We will definitely have our concentration back and the intensity will be there in our games to come next weekend."

Kate Longworth can be reached via e-mail at Kate.Longworth@wildcat.arizona.edu.