The final drive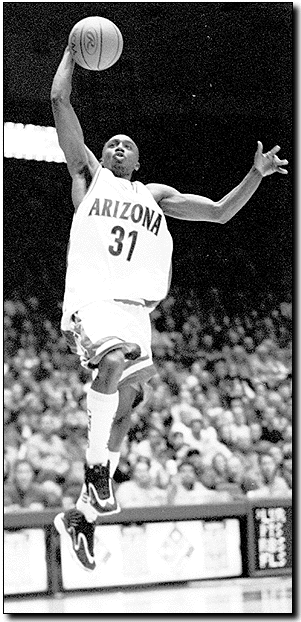 Nicholas Valenzuela
Arizona Daily Wildcat

Senior point guard Jason Terry (31) goes up for a layup during a game earlier this season at McKale Center. Terry, who is averaging 22 points a game for the 20-6 Wildcats, was named Sports Illustrated's player of the year yesterday.


While no longer a contender for the Pacific 10 Conference title, the UA men's basketball team still has quite a few reasons to be motivated for this weekend's last home series against Southern Cal and UCLA.

For starters, No. 13 Arizona (20-6, 11-5 Pac-10) is in a battle to impress the NCAA Selection Committee, which will determine the Wildcats' road to a potential Final Four appearance when it announces the tournament brackets Sunday afternoon.

Two wins and the Wildcats will most likely garner a four seed in the West or South. A loss or two and UA could fall to a sixth seed and get sent to the East Regional, where a matchup would loom against Duke in the first few rounds.

A second motivation is that these are the last two home games for seniors A.J. Bramlett, Jason Stewart and Sports Illustrated's Player of the Year, Jason Terry.

The third motivation may be the most compelling - the Wildcats just don't like to lose, especially at McKale Center, where they have won 30 games in a row.

So as the Southern Cal Trojans (14-11, 6-10) take on the Wildcats tonight at McKale at 6:30, expect Arizona to come out with some intensity.

"This place is special," junior forward Eugene Edgerson said. "You don't want to go out on a losing note."
No. 13 Arizona vs. Southern California
(20-6, 11-5 Pac-10) (14-11, 6-10)
Tipoff: 6:37 p.m. at McKale Center
TV/Radio: Televised on KTTU; Broadcast on KNST (790 AM)
Game Notes: UA has won 30 consecutive games at McKale Center, the fifth longest home winning streak in the nation. . .Arizona has a current two-game losing streak, the first such streak since the Wildcats lost the last two games of the 1997 season. . .UA beat USC 87-78 Jan. 4. . .Senior point guard Jason Terry was named Sports Illustrated's player of the year yesterday. . .The Trojans haven't won at McKale Center since January of 1985

After starting 2-7 in conference, the Trojans have rebounded with wins in their last two games at home over Washington and Washington State. They also beat Stanford and Oregon on the road and lost by only five to UCLA in Los Angeles and by three to California in Oakland.

"As you can tell by their recent games, they've been playing very well," UA head coach Lute Olson said. "They've got some big solid people inside."

USC's main inside threat inside is sophomore center Brian Scalabrine, who has impressed Olson in his first year in the conference.

"He's played awfully well all year long," Olson said of Scalabrine, who is averaging 14.9 points and 6.5 rebounds per game. "He's going to be a big time player in this league for a couple of years to come."

Scalabrine is probably most recognized for his high arching shot and his ability to shoot from the outside, making it tougher for opposing centers to guard him and block his shots.

UA senior center A.J. Bramlett, who held the 6-foot-9 Scalabrine to eight points and seven rebounds in the Wildcats' 87-78 victory over USC Jan. 4, said the key to his success depends on his ability to deny Scalabrine the ball.

"I'm just going to keep the ball out of his hands so hopefully he won't get to shoot those shots," Bramlett said.

USC's other main inside threat comes from 6-foot-7 forward Sam Clancy, who had 16 points and 10 rebounds before fouling out of the first game.

Clancy will match up against UA freshman forward Michael Wright, who will try to recover from a three point, three rebound game against Stanford where he was limited to only six minutes due to foul trouble.

Olson pointed out, though, that a couple of Wright's fouls came on what he called "The Madsen Flop," after Stanford forward Mark Madsen's tendency to hit the floor hard after even minor contact.

"It amazes me that experienced officials still fall for that," Olson said.

Wright, who is a favorite for the Pac-10 Freshman of the Year award, scored 11 points and grabbed 12 rebounds in the first matchup with USC and is averaging 13.7 points and 8.6 rebounds while playing 27 minutes per game.

"Michael has been a prime time player for us," Olson said. "I said in the beginning of the year Michael would have a great shot of winning (the freshman of the year award)."

If Wright doesn't win the award, USC point guard Brandon Granville might. Having become the fulltime starter midway through the season, Granville has settled into the offense, Olson said.

"He's doing a good job taking care of the ball and getting it to the right people," he said.

Terry said underestimating the Trojans would be a bad mistake despite their record and lack of hopes for the post season.

"They're going to come in here and play well," he said. "They don't want to come in and stink it up."

Seth Doria can be reached at Seth.Doria@wildcat.arizona.edu