March 4 - 10, 1999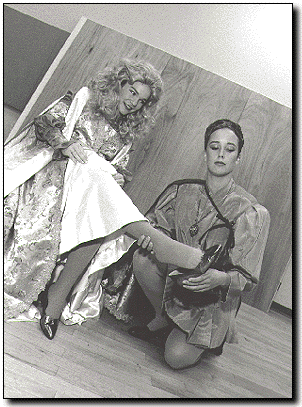 photo courtesy of UA News Service
Arizona Daily Wildcat
UA Opera Theatre presents Cendrillion, an operatic rendition of Cinderella, this weekend.
Thursday, March 4
The worlds of music, dance and art collide this evening when R.C. Nakai and Chuck Koesters perform in the Union Gallery accompanied by improvisational movement by Anne Bunker, all inspired by the sculpture of Catherine Nash and Robert Renfrow. It's "Journeys" tonight from 5 to 7. Call Julie Sasse in the Arts Department at 621-6142 for more information.
The UA Opera Theater presents Cendrillon (aka Cinderella) March 4-6 at 7:30 p.m. at Crowder Hall, and March 7 at 3 p.m. Tickets to this different interpretation of a classic tale are $12 general, $10 staff and $6 students. Call the Arts Department box office at 621-1162 before your fairy godmother does.
Even though China is one of the most densely populated nations in the world, I guess it's still small in some ways. UAB Midnight Movie: "Big Trouble in Little China" shows tonight and tomorrow at, you guessed it, midnight. Tickets are $2.50. Call Gallagher at 621-4678; maybe they can clue you in.
Friday, March 5
Get funky with the bluegrass stylings of Frog Mountain and Peter McLaughlin tonight at the Berger Performing Arts Center at Pima Community College. To hear their "high lonesome sound" will cost you $12 in advance and $14 day of show. Call up 297-9133 in your best twang to get all the info.
Put your ear to the ground and maybe you'll tune in to The Subsonics with Twine and The Cheapshots tonight at 9 at Club Congress. It won't cost you the whole ball of string because tickets are only $3, and call 622-8848 so the bouncer doesn't take a "cheapshot" at you for not knowing what's going on.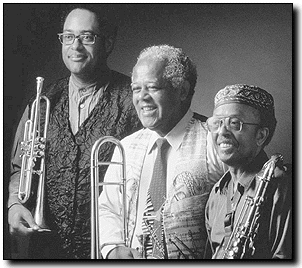 photo courtesy of UAPresents
Arizona Daily Wildcat

Jazz masters Faddis, Hampton and Heath take on Centennial Hall Friday night.

Faddis, Hampton & Heath hit the stage at Centennial Hall tonight at 8 to be-bop you back in time to the era of Dizzy Gillespie, Charlie Parker and Thelonious Monk. It's a jazz event not to be missed. Tickets are $16, $22, $28/ Call the Centennial Hall Box Office at 621-3341 for more information.
Saturday, March 6
Swoon over Julio's son, Enrique Iglesias, tonight at an 8 p.m. concert at Tucson Convention Center. Tickets are $15-35, and call 791-4101 to find out more information.
Get into the groove at GrooveFest 1999, tonight at 8 at the Rialto Theater, 318 E. Congress. The bands to be featured are Gila Monsters, Spacefish, Funky Bonz and Greyhound Soul. Wonder if those last guys got their name from the nearby bus station. If you're curious too, call 740-0126 for more info about this all-ages show for only $5. Or check out page 7.
I am in no way a rocket scientist, so that's why I'm going to see How to Build a Rocketship along with Wise Folk Malcontent tonight at 9 at the Plaza Pub. Tickets are only $3 which is a helluva lot cheaper than those engineering textbooks. Call 882-0400 for all the blueprints.
Sunday, March 7
Folk-country artist Richard Buckner, known for his solo act as well as his work with the Doubters and Son Volt, will be stopping by Club Congress, 311 E. Congress, tonight at 7 to promote his new album, Since. Bryan Kelley and Creosote will open the show, which will cost you $5. Call 622-8848 for more information.
Does the WB network leave you missing your daily dosage of international cinema? Then come down to Gallagher Theatre March 8-10 to see Kryzystof Kiewlowski's trilogy "Red, White and Blue." They will show a different movie each night for free at 7:30. First is "Red," then "White" and then "Blue." Pretty clever huh? If you have no idea how to pronounce the director's name call 621-4678 for phonetic assistance.
The scatman cometh to Arizona Jazz Week March 8-11. This showcase of local, national and international talents is at Crowder Hall at 7:30 p.m., except for closing night, when the tunes start at 8 p.m. Ticket prices and performers vary, so call the box office at 621-1162 for more info.
Tuesday, March 9
Cosette, Jean Valjean and a bunch of starving French people romp through Victor Hugo's Les Miserables March 9-14 at Centennial Hall. Evening shows start at 7:30, and tickets cost $30-49. Imagine how much that money would have helped out the starving French people. Call 621-3341, s'il vous plait..
Wednesday, March 10
The word "crooner" reminds me of Lyle Lovett. But the band Crooner has nothing to do with Julia Roberts and bad hairdos. They take to the UA Mall at 12 p.m. as a part of UAB's Eat to the Beat concerts, KAMP Student Radio and ASUA Special Events' Groovin' on the Grass free concert series (have you noticed we've used the word "groove" three times so far?). So come catch this pop-infused band while you munch on your lunch.
If the power-estrogen of Lilith Fair was not enough to tide you over to next summer, come see the Virginia Slam Festival tonight at the Rialto Theater, 318 E. Congress. Doors open at 7 p.m. for the all ages show, and tickets are $8. Call the Rialto at 740-0126 so they can dispel the feminine mystique.
Imagine if Shakespeare had been a dry goods clerk instead of a writer? Measure for Measure would have had a wholly different meaning. The show comes to the Arizona Repertory Theater March 10-13 at 7:30 p.m. Tickets are $10-16 which could also buy you several pounds of rolled oats. Call the Arts Department at 621-1162 for more information.