Terry named All-American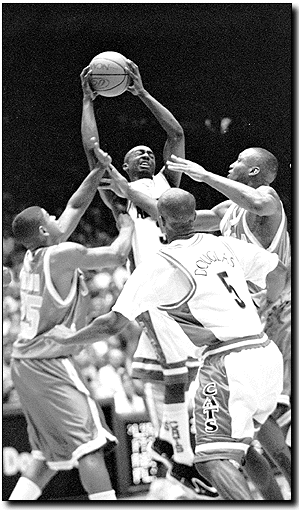 Nicholas Valenzuela
Arizona Daily Wildcat

Senior point guard Jason Terry (31) goes up for a shot while being guarded by UCLA players at McKale Saturday. Terry was named an All-American by the Associated Press yesterday.


After becoming the first player to lead the Pacific 10 Conference in scoring, assists and steals in a season since Gary Payton in 1990, Jason Terry was named yesterday a first-team All-American.

Though he wasn't even an honorable mention for the team in the preseason, Terry averaged 22.1 points, 5.57 assists and 2.71 steals per game this season to lead the Wildcats to a 22-6 record and a No. 4 seed in the NCAA Tournament.
First Team All-Americans

Name             Pos  School    Stats
Jason Terry      G    Arizona   22.1 ppg, 5.6 apg, 2.5 steals
Elton Brand      F    Duke      17.8 ppg, 9.9 rpg, 2.2 blocks
Andre Miller     G    Utah      15.9 ppg, 5.5 rpg, 5.8 apg
Richard Hamilton F    U Conn    21.0 ppg, 4.8 rpg
Mateen Cleaves   G    Mich. St. 11.8 ppg, 7.1 apg

Second Team
Evan Eschmeyer, Northwestern; Chris Porter, Auburn; Wally Szczerbiak, Miami, Ohio; Steve Francis, Maryland; Trajan Langdon, Duke
Third Team
Tim James, Miami, Fla.; Baron Davis, UCLA; Scoonie Penn, Ohio State; Quincy Lewis, Minnesota; Ron Artest, St. John's
"It just goes to show you that you can never count out the underdog," Terry said. "It was just a situation where I got to go out and play 40 minutes a game. Forty minutes, that's a lot."
Terry has also been named a finalist for the John R. Wooden Player of the Year Award and was named last week Sports Illustrated's National Player of the Year.
In his first year as a starter, Terry has led a team with three freshmen in the starting lineup beyond most expectations to a second place finish in the Pac-10.
Terry sat out the end of practice yesterday with an ice bag on his left knee, the senior point guard said it was just a precautionary measure. He said he ices his knees most days after practice and that he just wanted to start a little early yesterday.
"It was feeling a little achy," Terry said. "I just wanted to make sure it didn't flare up on me."
Terry said he will be ready to play his customary 37 to 40 minutes a game when the Wildcats take on the Oklahoma Sooners Friday at the Bradley Center in Milwaukee in the first round of the Midwest Regional.
And while he has received a number of national awards, Terry still said the tournament would be his ultimate stage.
"This is my time to shine, to get into the national limelight and try to blow it up," he said.
Seth Doria can be reached at Seth.Doria@wildcat.arizona.edu.