Men's volleyball team beats ASU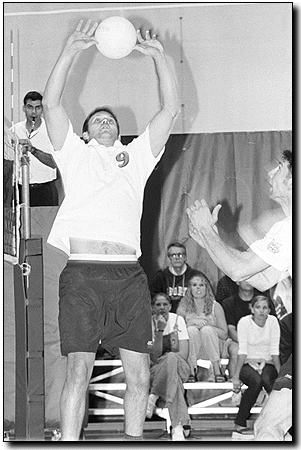 Eric M. Jukelevics
Arizona Daily Wildcat

Graduate student setter Steve Walker (9) sets the ball for junior Vince Rooney (4) in last nights game against Arizona State University. Arizona swept ASU to remain undefeated in club volleyball.


The UA men's volleyball team easily took care of the Arizona State Sun Devils last night at the Student Recreation Center.

The Sun Devils, already missing players due to injuries, were lost even before the game began, arriving late after taking a wrong turn off the freeway. It didn't get any easier on the court, where UA swept them in three straight sets 15-7, 15-3, 15-9.

Standing out for the Wildcats were setter Steve Walker, outside hitter Kevin Jones and middle blocker Nick Thompson.

The win puts the Wildcats at 22-4 overall and 20-0 against club teams. The victory should guarantee the Wildcats the No. 1 ranking for the seventh straight week.

In the first match, the Wildcats came out somewhat anxious. After a few controversial calls, middle blocker Brian Bowers was given a yellow card for arguing with an official. But the uncertainty was short-lived.

Arizona's size and aggressiveness overcame the smaller ASU squad. After a victory in the first set, UA settled into a rhythm, dominating the second set.

Midway through the third set, head coach Steve Carlat removed most of his starters and still the Wildcats finished with their second victory of the season against ASU.

Carlat said he believes that even his backups could start on the team.

"Those guys are capable of high-level volleyball," he said. "They are so competitive."

UA faces ASU again March 26, after spring break, in Tempe. The Wildcats hope ASU will be healthy enough to stay competitive next time around.

"It is unfortunate that they are undermanned, but we will capitalize on that and take the win," Walker said.

The next match against ASU is the last for UA until the conference tournament in April. "ASU is still one of the better teams in our conference and they play well," Carlat said. "There is a good chance we will meet them there, too."
Wildcats look to clinch playoff spot against ASU
With a trip to the playoffs on the line it is easy to assume the UA rugby team won't need any help getting emotionally charged for its game on Saturday.
But to sweeten the deal, the game will be played against Arizona State.
With a win, Arizona can secure its second conference championship in the last three years, which would give Arizona an automatic berth to the U.S. National Collegiate Playoffs in Colorado Springs.
The Wildcats are riding a four game winning streak into their matchup with the Sun Devils.
Junior eight-man Dan Duncan said it is never hard for the team to get ready for a game against ASU.
"Every year it is all emotions," Duncan said. "I get a thrill out of beating them handily."
There is currently a three-way tie for first place between UA, Long Beach State and UC-Santa Barbara. If a tie exists at the end of the season, the team with the most points scored will be crowned conference champions. This should not be a problem for the Wildcats as they have rattled off 157 points in their last four games.
But head coach Dave Sitton said ASU will bring a team that is having one of its best seasons in a long time. Sitton credits ASU head coach Brad Filgas for turning around their program.
Saturday's game starts at noon at Estevan Park, 1000 N. Main St., and admission is free.
- Chris Reimer
Laxcats try to continue winning
The UA Laxcats will try to extend their winning streak as they travel throughout the state of California to play five games in one week.
The Laxcats will begin their road trip with games against Haverford College on Saturday and Whittier College on Sunday. In last year's game against Whittier a fight broke out between the two teams which resulted in the suspension of players from both squads.
UA freshman attackman A.J. Ayers said if the team plays up to its potential they should be able to give both Haverford and Whittier good games.
"Coach (Mickey-Miles) Felton has told us that these two teams are quality opponents," Ayers said.
Ayers added he believes that spending his spring break traveling with the lacrosse team should be a fun experience.
"These are a fun group of guys," Ayers said. "It will be a good chance for us to come together as a team."
The Laxcats will continue their road trip with games versus Loyola-Marymount on Wednesday, at Mission Viejo against MIT on Friday and finishing with a game at the San Diego Festival at the Polo Fields in Del Mar.
Senior attackman Dan Price and sophomore Midfielder will lead the Laxcats' offense, while defensemen Jeff Cady and Laurance Bass will try to keep the opponents away from the goal.
After the road trip, the Laxcats will return to Tucson to play UC-Davis March 27.
- Chris Reimer