Track team opens outdoor season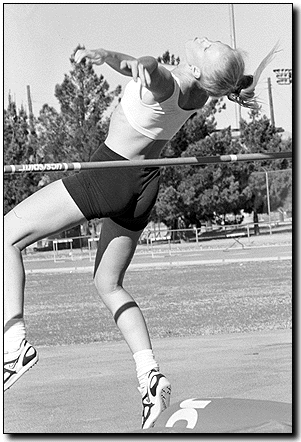 Leigh-Anne Brown
Arizona Daily Wildcat

Sophomore Liz Giltner clears the high jump bar during practice yesterday at Roy P. Drachman Stadium. The track team starts its outdoor season by hosting the Willie Williams Classic March 19-20 at Drachman Stadium.


At last season's NCAA Outdoor Championships in Buffalo, N.Y., the UA men's track and field team took home two individual national championships, two second-place finishes and two All-American honors on their way to a fourth place team finish. The women's team was no slouch at the NCAAs either, finishing with two individual national titles, two All-American honors and an 11th place team finish.

With a majority of last year's team returning, UA head coach Dave Murray likes the Wildcats' chances to repeat if not best last year's performance at the 1999 NCAA Outdoor Championships in Boise, Idaho June 2-5.

"We return the athletes who scored 33 out of the 42 points at last year's NCAAs," Murray said. "We also have some young kids that are doing exceptional things, which makes for a good all-around team."

The middle distance and distance runners have always been a strong point for UA and this year should prove no exception.

The men are led by senior Abdi Abdirahman and sophomore Patrick Nduwimana.

Abdirahman is a five-time All-American and will compete for the national title in the 5,000-meters and 10,000m. Last season at the Pacific 10 Conference Championships Abdirahman won both the 5,000m and 10,000m, and this past fall Abdirahman finished second at the NCAA Cross Country Championships.

Nduwimana owns the school record in the 800m and finished seventh at NCAAs last year. He is coming off an impressive performance at the IAAF World Indoor Track Championships in Japan, in which he advanced to the semifinals running for his home country of Burundi.

Rounding out the distance squad on the men's side is a group of solid and seasoned runners. Sophomore David Lopez will run the longer distances for the Wildcats, including the 10,000m. Junior Micheil Jones will compete in the 1,500m, 3,000m and 5,000m. Another junior, Jeff McLarty, will also compete in the 5,000m. McLarty is fully recovered from an ankle injury suffered during a cross country meet.

Junior Jeremy Lyon will compete in the steeplechase and could be possibly be one of the top three runners in his event in the Pac-10.

Sophomore Tom Prindiville, junior transfer Brent Pedersen and freshman Steve Smith round out the men's distance squad.

Amy Skieresz has won seven national titles, is a 10-time All-American and has been the premier women's collegiate distance runner in the nation during her three years at UA.

At the conclusion of the cross country season, Skieresz was diagnosed with a benign tumor on her right femur and missed the indoor track season. However, head coach Dave Murray is confident Skieresz will recover and challenge for national titles in the 5,000m and 10,000m.

"She's not running at peak performance, but she's training everyday without problems," he said. "She should be in top form for the championship season."

In the absence of Skieresz, freshman Tara Chaplin has asserted herself as another UA distance runner to reckon with. Chaplin finished second behind Skieresz in four races during the cross country season and at the 1998 NCAA Indoor Championships she received All-American honors.

Running the 1,500m for the Wildcats will be senior Maia Wright, juniors Claire Becker and Kristen Parrish and freshman Jennifer Burns.

Pole vaulters Jeff Dutoit and Mike Mortensen finished 1-2 in four meets this year and Dutoit placed third at NCAA Indoors. Dutoit has asserted himself as one of the top vaulters in the nation with a vault of 18-foot-2 at NCAA Indoors and Mortensen is a solid No. 2 vaulter.

The women's pole vaulting team is led by junior Andrea Neary. Neary is coming off an impressive indoor season that included two first-place finishes at meets in Flagstaff and at the Air Force Classic in Colorado Springs, as well as a 14th place finish at NCAA Indoors. Freshman Lenora Petroff-Tobler has shown promise this year, finishing second to Neary at the tri-meet in Flagstaff in late January.

The UA sprinting team, on both the men's and women's sides, is improved this year.

Carolyn Jackson, an All-American who has run in two NCAA Indoors and one Outdoors, will lead the women. Associate head coach Fred Harvey, called Jackson "very, very special."

"She can definitely challenge for one of the top three spots at nationals," she said.

Freshman Brianna Glenn has been an invaluable addition to UA and is coming off an impressive indoor season. Glenn competes in the 100m, 200m, long jump, triple jump and relays.

"Brianna could be one of the best all-around performers in the country," Murray said. "She was by far our most valuable performers, in terms of points scored, in the indoor season."

Fifth-year senior Shanna Griffin was an NCAA qualifier last year in the indoor season but redshirted the outdoor season. She will run the 800m for the Wildcats along with Cara Cline, who will also focus on the 400m

Nicole Thomas asserted herself as a solid hurdler in the tough Pac-10 and is joined by freshman Ryan Peters. Thomas finished third in a conference meet last season and while in high school, Peters was the California state champion in the 300m hurdles in 1997.

The men's sprinters will be led by juniors Eugene Kibby and Chris Golston. Kibby, who qualified last season for the Pac-10 Championships, will run the 100m, 200m and relays. Golston will run the 100m, 200m, 400m and relays for the Wildcats.

Two freshmen, Guy McGowan and Matt Lea, should significantly add to the UA men's sprinting squad. McGowan will provide support for the Wildcats in both the hurdles and sprints while Lea will run the 400m and relays.

Together, Golston, Kibby, McGowan and Lea will put together a formidable 4 x 100 relay squad.

"We have a 4 x 100 team that should be top three in the Pac-10's with an outside chance of qualifying for the NCAA's," Harvey said. "This all depends on how well they mature and gel as a group."

Junior Tara Flaming, who earned All-American honors and finished 11th at last year's NCAA Outdoors in the high jump, sat out the majority of the indoor season with an ankle injury. Flaming is now recovered and will be joined by sophomore Liz Giltner, who placed sixth at last year's Pac-10s in the high jump.

Sophomore Keith Varga and junior-transfer Warren Peters have demonstrated during the indoor season they can compete at a national level in the men's high jump. At a tri-meet in Flagstaff, Peters and Varga blew away the competition, finishing 1-2.

UA features of trio of male javelin throwers that could be the best in the conference if not in the nation. Reigning NCAA champion, sophomore Esko Mikola, as well as a pair of Norwegians, sophomores Ola Larsen and Christian Banken, all qualified for NCAAs last year. Mikola tossed an NCAA Championship record 268-foot-7 to win the title, but Larsen and Banken failed to place.

"Those three are possibly the top three javelin throwers in the conference," Murray said. "We're expecting big things from them."

Freshman Richard LeGarra will also compete in the throws for the Wildcats, lending his talent to the discus, shot put and hammer events.

The women's throws team brings back two of its top athletes from last season and adds the top high school thrower.

Junior Mandy Shefman returns after qualifying for Pac-10s in the discus, shot put and hammer throw. Graduate student Sarah Seronde qualified for Pac-10s in the hammer last season.

Freshman Maureen Griffin, the junior national record holder in the hammer throw, has already proven she can compete on a level with the nation's elite. Griffin qualified for the NCAA Indoors in the 20 pound weight throw and finished 14th.

"She will definitely be one of the best in the country," Murray said. "She qualified for the NCAAs in indoor and she should do the same in the hammer in outdoor NCAAs."

At last season's NCAA Outdoors, senior Klaus Ambrosch scored the third best point total in school history on his way to the decathlon title. Ambrosch excels at the hurdles and the long jump and could possibly qualify for the NCAAs in the javelin.

"Klaus is vastly improved from last year and has a shot at repeating as the NCAA champ in the decathlon," Murray said.

Murray said with key athletes such as Skieresz and Flaming returning from injuries, combined with returning champions and new talent, the Wildcats have a shot at besting last year's performance at the NCAAs.

"We feel that we can score as well or more points at this years NCAAs than we did at last year's," he said. "If we do that, we'll have a shot to do really well at nationals."