Drafting to NBA helps NCAA
By Seth Doria
Arizona Daily Wildcat
March 30, 1999


Send comments to:
letters@wildcat.arizona.edu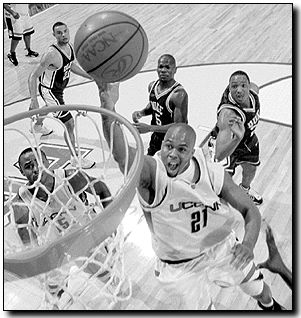 Wildcat File Photo
Arizona Daily Wildcat

Seth Doria


Now that Connecticut has taken the title of college basketball's national champion with a 77-74 upset win over Duke, the annual exodus of underclassmen to the NBA will commence.

Some of the biggest undergraduate names in college basketball are expected to declare themselves eligible for the draft, thus leaving behind the college life for the cash and fame of the pros.

The trend, also prevalent in football, has been criticized as both ruining the college game by making coaches play inexperienced players and flooding the pro game with unprepared athletes who don't know anything about speed and power.

One local example recently was a column written in the Tucson Citizen lamenting the possibilities of what might have happened if Mike Bibby had stayed for his last two years at Arizona.

Surely, a backcourt of Bibby and Jason Terry with freshman Ruben Douglas coming off the bench would have had much better luck in making a tournament run past the first round.

What if Vince Carter and Antwan Jamison played for North Carolina this year? What if Corey Benjamin was still at Oregon State? What if the Fab Five played together for four years?

The point is that this decade has seen a progression of talented but raw underclassmen leave college for the NBA and some say the college game has suffered.

And they're wrong.

This past tournament has proven that young, athletic teams from powerhouse programs have become more susceptible to losing to less-talented, but more experienced, teams that have time to learn the fundamentals of the game.

Of the teams that pulled off major upsets, almost all were senior-laden. No. 10 seed Gonzaga, with two seniors and two juniors in starting lineup, made the Elite 8. No. 10 Miami (Ohio) (three seniors, two juniors), No. 13 Oklahoma (two seniors, two juniors) and No. 12 Southwest Missouri State (one senior, four juniors) all made the Sweet 16.

Of the other major upsets, No. 13 Weber State, with three seniors and two juniors in the starting five, beat No. 3 North Carolina, which started two freshmen, a sophomore, a junior and a senior.

UCLA started two freshmen and three sophomores and Arizona had three freshmen starting with seniors A.J. Bramlett and Terry. Both lost in sloppy games where the experience difference played a major role.

As the powerhouse programs get weaker due to early departures, they are brought down to the pack, creating more competition. Virtually every major conference, with the exceptions of the ACC and Atlantic 10, was more competitive this year than in the past.

Now, this doesn't mean the Gonzagas of the world are going to start racking up the titles. Television and sponsorship contracts have virtually assured that every major recruit will head to a big name school (Duke has three McDonald's All-Americans in next year's recruiting class alone). But as long as schools like UCLA and Duke, which will probably lose Brand in addition to Trajan Langdon, have to contend with young players, smaller schools will at least stand a chance.

Nobody wants to see a repeat of John Wooden's UCLA dynasty. Nobody wants to see a college version of the Chicago Bulls.

College sports are about the small team of underdogs fulfilling the dream of knocking off the big boys. The breakup of the potential college dynasties just gets the NCAA closer to that goal.