UConn shuts down Duke
By The Associated Press
Arizona Daily Wildcat
March 30, 1999


Send comments to:
letters@wildcat.arizona.edu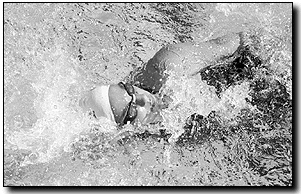 Associated Press
Arizona Daily Wildcat

Connecticut's Ricky Moore goes up for two as UConn's Kevin Freeman, left, and Duke's Trajan Langdon, second left, William Avery, third left, and Chris Carrawell, right, watch in the first half of the championship game of the NCAA Final Four, yesterday, at Tropicana Field in St. Petersburg, Fla.


Associated Press

ST. PETERSBURG, Fla. - Ricky Moore started with an unusual jolt of offense, then finished off Duke with the defensive stop of a lifetime.

Moore, the most famous defensive specialist in America, forced Duke's Trajan Langdon to travel with seconds ticking down in the NCAA championship game last night. Langdon lost the ball, and Connecticut celebrated its first national title with a 77-74 victory over Duke.

When it was over, Moore raised his arms to the crowd and walked off the court, a rare player who lifted his team to championship heights just because he could guard anybody.

''I wasn't worried about my scoring in the second half,'' Moore said. ''I took it upon myself to play more defense.''

That he did.

Moore sent Duke reeling for the first time in the Blue Devils' dominant season with seven points during a 15-4 run in the first half. But his biggest play, one that kids in his native Augusta, Ga., will be talking about on the playgrounds for years, came as Langdon was poised to shoot down UConn's quest for an upset.

''We had Ricky Moore,'' teammate Kevin Freeman said. ''No one could stop him.''

On offense, or defense.

After UConn point guard Khalid El-Amin lofted an airball on a tough running jumper, Langdon got the ball and Duke didn't call a timeout.

Dribbling between his legs before spinning and driving on Moore, Langdon got his feet tangled and traveled with 5.4 seconds left.

El-Amin hit two free throws, and UConn did what few thought was possible.

Everyone underestimated Moore's impact.

Moore, who had all of his 13 points in the first half with a rare offensive outburst, made quite a name for himself in this tournament with a talent that usually goes unheralded. He held Ohio State's Scoonie Penn to 11 points and 3-for-13 shooting in the national semifinal.

This came after stellar defensive performances earlier this season against Michigan State's Mateen Cleaves (2-for-15) and Stanford's Arthur Lee (4-for-13).

Guarding his boyhood friend William Avery for some of the game, he started paying more attention to Langdon in the second half. And when Langdon got the ball in the closing seconds, the Ricky Radar was locked in.

Moore got in position as Langdon leaned forward and glided confidently - a little like Grant Hill downcourt. After a fearless display of between-the-legs dribbling, Langdon tried to spin on Moore.

Big mistake. The whistle blew, and Duke had blown it.

After El-Amin's free throws, Langdon tried to redeem himself with a drive down the sideline through heavy traffic, but lost the ball.

Mr. Moore's defensive clinic - and UConn's long wait for a national title - was over.