Home, sweet home, for the Wildcats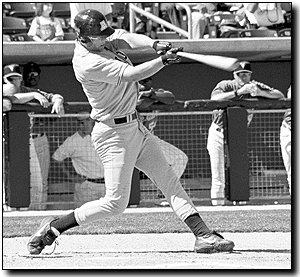 Leigh-Anne Brown
Arizona Daily Wildcat

Freshman right fielder Shelly Duncan (18) connects with a pitch during a game earlier this season. Duncan continues to extend his UA freshman home run record that was held by Dave Shermet since 1985 as Duncan hit his 12th and 13th home runs this weekend.


The UA baseball team (20-14, 3-6 Pacific 10 Conference) can take solace in the fact it has a chance at redemption at home in the upcoming weeks after getting swept by Stanford this past weekend.

For the next couple of weeks the team gets the luxury of practicing at the beautiful Frank Sancet Field, where the grass is greener than anywhere on campus and the bottlebrush tree in left field is, according to head coach Jerry Stitt, "Tucson's best bottlebrush tree."

"It is so beautiful and the field looks great," he added.
Duncan knocks out two more
Freshman right fielder Shelley Duncan continues to blow past the UA freshman home run record that was held by Dave Shermet since 1985 as he belted his 12th and 13th home runs this weekend.
While records are meant to be broken, Duncan's spot in the batting order, which has fluctuated from fourth to sixth, is the main reason he was recruited by the Arizona coaching staff.
"It is nice for Shelley, but he doesn't care," Stitt said of the record. "You want to have power in the middle of the lineup. Power is defined by how hard you hit, not how far you hit it. I hope he becomes a combination of a guy that can drive the ball and hit home runs."
Stitt's wishes may be coming true as Duncan's home run Saturday night was one of those high, long blasts, but his home run Sunday was more of a line drive to left field.
"I want Shelley to get more hits," Stitt said. "Saturday's was a towering blast but Sunday's was a line drive, which is what I am looking for."
Where he goes, they go
The UA baseball team has had its ups and downs this season.
Coincidentally, sophomore third baseman Erik Torres has had his ups and downs this season at the same time the rest of the ballclub has.
Torres, who is hitting .303 on the season with three home runs and 26 RBI, has started all 34 games for the Wildcats this season after being bounced around from position to position last year.
"Torres is what the coaches would call a leader. He is a guy that when we were struggling, he was struggling," Stitt said. "And when he plays well, usually we do also."
Torres, who struggled early on in the season in his new role as a leader and starting third baseman, has begun to swing the bat better since the last game at Tulane March 7, which was just in time for the beginning of the Pac-10 schedule.
"Coming from Coach Stitt, it is an honor," Torres said. "He always emphasizes hustle and that is what I strive for. If I give 100 percent to the team and coaching staff, then I did my job for the day."
Last year, Torres was the back-up third baseman for ex-Wildcat Omar Moraga as well as a fill-in for ex-Wildcats Jason Hendricks and Eric Mattern at left field and second base, respectively. He was also a designated hitter at times.
"He definitely got his at-bats, but he didn't play consistently at one position as he is doing this year," Stitt said.