UA Laxcats sweep weekend series, beat UCD, Santa Clara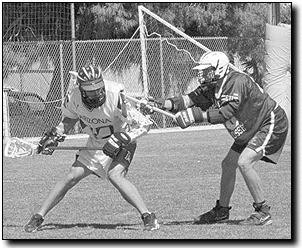 Jennifer Menditch
Arizona Daily Wildcat

Freshman attackman Matt Green goes in for a shot Sunday against Santa Clara. The Arizona Laxcats defeated UC-Davis 19-8 Saturday and won again Sunday against Santa Clara 17-11.


After losing the final two games of their spring break road trip, the UA Laxcats were looking for consistent play as they headed into weekend games against UC-Davis and Santa Clara.

The Laxcats swept the two games by a combined score of 36-19, scoring a season high 19 goals against UCD.

Senior attackman Dan Price said the team put together a strong effort for a game and a half, but had a bit of a letdown in the second half against Santa Clara.

"It was good to bounce back," Price said. "We are beginning to realize that it is time to come together and make a run towards the playoffs."

Arizona started off cold Saturday, scoring only one goal in the first quarter. Freshman attackman Matt Green got Arizona going with three goals in the second quarter. Green finished the game with five goals and two assists.

Price said Green's success has helped the team develop offensive continuity.

"Matt has helped to take pressure off of me," Price said.

The Laxcats finished the first half with a 7-3 lead.

Price led a second half attack in which the Laxcats scored 12 goals. Price scored three and added three assists. Junior midfielder Lon Packer also scored three goals.

Head coach Mickey-Miles Felton said Packer's contribution was a key part of the victory.

"He has an unorthodox style of play that is very entertaining to watch," Felton said. "When he scores it is a big lift for the team."

The defense got a boost by the return of junior Phil Guiliano, who had been out with a broken hand.

The Laxcats picked up where they left off in Sunday's match against Santa Clara. Sophomore Matt Wilkens returned from a shoulder injury to score two first quarter goals. Price also scored two goals in the first quarter. Arizona then outscored Santa Clara 7-1 in the second quarter. The Laxcats were outplayed in second half but finished the game winning 17-11. Green scored four goals, while Price added three goals and two assists. Sophomore attackman Justin Taglianetti added a goal. Felton said Taglianetti has been doing good things for the team lately.

It is the perfect time for the Laxcats to start playing well as they head into a game against Arizona State tomorrow night. The game has major playoff implications with both teams needing victories to remain in the playoff picture.