Spring Fling gets underway today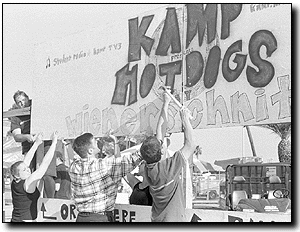 Jennifer Holmes
Arizona Daily Wildcat

From left, economics senior Jason Prosser, English junior Karoline Swanson, adviser Chip West and journalism senior Justin Clifton set up the KAMP Student Radio booth for Spring Fling yesterday afternoon on the UA Mall's McKale Lawn. Spring Fling opens today and runs through the weekend. Festivities include rides, carnival games and booths put on by the Associated Students and campus organizations.


Today's kickoff of ASUA's Spring Fling offers Tucsonans a chance to get tossed around on roller coasters and become ill from eating too much popcorn.

But to the Associated Students, the annual carnival event is serious business.

Chantelle Brewer, Spring Fling's director, said the student-run festival is under its budget limitations, and she credits dollars that come from corporations outside the University of Arizona.

"We've raised more corporate sponsorship than Spring Fling ever has in history," she said.

The sponsors, which include Abco Foods, Papa John's Pizza and Beaudry Volkswagen, have contributed more than $20,000.

Spring Fling also garners donations from the UA's contract with Pepsi Co.

"It looks like Spring Fling will do very well," Brewer said.

But Lindsay Gardner, Spring Fling's marketing director, said the annual carnival is not designed as a money-making event for ASUA.

The student government organization has either broken even or lost money on the carnival in past years.

Including the giant roller coasters, Spring Fling cost ASUA $168,000 this year - money loaned to the student organization by the UA budget office, Gardner said.

While ASUA made $28,000 off the event last year, Brewer said excess money is re-invested to improve Spring Fling for the future.

Despite the carnival's non-profit status, campus clubs and organizations participate in the event to make money. Last year, student clubs raised $85,000 altogether, but Gardner said she wants to see them exceed $100,000 during this year's Spring Fling.

"I definitely think that's do-able," she said.

One hundred UA clubs and organizations will maintain about 50 booths on site. Some will offer snacks, while others will offer visitors games to play while they recuperate from the rides.

Fourteen musical acts are also part of the four-day carnival, with R&B group "Voices of Theory" highlighting on Saturday night.

Brewer said ASUA saved money on the nationally-known group, paying them $6,000 as opposed to last year's $10,000 they paid "112."

The carnival, now in its 25th year, will be held on the UA's McKale Lawn.

"We're expecting bigger and better everything this year," Gardner said.