Wildcats look frozen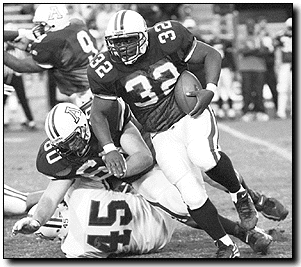 Nicholas Valenzuela
Arizona Daily Wildcat

Walk-on running back Robert Bonds breaks some tackles and gains some of his 36 yards on the night during Saturday's scrimmage. The annual spring scrimmage was held at Arizona Stadium with the final score White (defense) 35, Blue (offense) 27.


The low temperature Saturday night seemed to seep into the Arizona football team, making it appear sluggish in its annual spring scrimmage.

"We looked horrible," UA junior quarterback Ortege Jenkins said. "It's about being able to execute, and we didn't do that tonight."

Jenkins was 3 for 12 for 45 yards and one interception and one rushing touchdown of the night, as the secondary seemed to step up to the challenge of shutting down Arizona's depleted receiving corps.

With senior Brad Brennan out following ankle surgery, senior Dennis Northcutt was the only receiver with substantial game experience. He led all UA players with 63 yards on four receptions.

"They played well," Jenkins said of the defense, "but we fumbled four times and I threw that interception, so we kind of gave it to them."

Sophomore Malosi Leonard, who was expected to step up this spring, did just that in the game, catching two passes for 26 yards and a touchdown.

"I had a lot to prove tonight," he said. "I didn't get a lot of chances last year.

"I've gotten better. I'm a lot better than I was last year."

Leonard's touchdown reception came from senior quarterback Keith Smith, who was 5 for 9 for 88 yards.Both Smith and Jenkins played with the defense not allowed to tackle them. Other UA players, though, didn't have such a luxury.

Junior running back Leon Callen, who led the team with 69 yards on 10 carries plus a touchdown, was hammered all night.

Another running back, walk-on Robert Bonds, ground out 36 yards, breaking several tackles on his longest run of the night.

"It felt great," Bonds said of his performance. "This weather, I'm loving it."

Bonds may have been alone in his feelings about the weather, but he felt neither the offense nor defense really overshadowed the other.

"We've got a good team," he said. "When the offense looks good, the defense steps up. You're always going to have one looking good and the other not. It's just the way it is in scrimmages."

Defensively, junior linebacker Adrian Koch (8 tackles, 1 sack, 1 fumble recovery), senior linebacker Scooter Sprotte (6 tackles), sophomore free safety Jarvie Worcester (5 tackles), sophomore cornerback David Laudermilk (4 tackles, 2 passes broken up) and junior free safety Brandon Nash (4 tackles, 1 pass broken up) were the standouts.

The final score was White (defense) 35, Blue (offense) 27, as decided by the defense earning touchdowns for the five turnovers.