One cadet's ascent
Sarah Guzzardo
Arizona Daily Wildcat
September 10, 1998


Send comments to: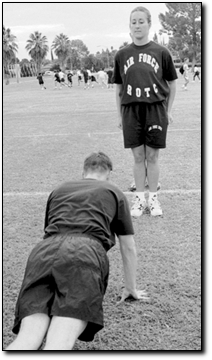 Wildcat File Photo
Arizona Daily Wildcat

First lieutenant Jana Alley (rear) puts cadet captain Mike Marlin through eight count body builders in the penalty box of the Air Force ROTC ultimate Frisbee competition last Thursday. Of the 136 members in the UA division of the Air Force ROTC, 46 are female.


Lisa Blumberg came to the UA a freshman, but graduated an officer.

She was one of three women who graduated from a class of 10 ROTC officers in May. Blumberg has the distinction of being the only female in her graduating class to begin pilot training in 1998.

"This is a dream coming true for me," Blumberg said. "I've wanted this ever since I can remember."

When cadets complete their undergraduate degrees and fulfill the requirements for Air Force Reserve Officer Training Corps, they are named second lieutenants in the U.S. Air Force.

With 46 women in UA's 136-member Air Force ROTC program, Blumberg said women are gaining a larger presence because career opportunities are expanding.

Women first gained the right to fly fighter planes in the Air Force in the early 1990s. One division of the Air Force, Special Operations, is still closed to women.

"I think the reason why women can't participate in it, is because it is a very intense, demanding, front-line position," Blumberg said.

She said women in the Air Force ROTC, however, participate as much as men do.

"There have been many more opportunities for women in the Air Force ROTC," Blumberg said. "They are definitely treated equally."

She added that one disadvantage for women is a height requirement, which remained the same after women integrated the Air Force.

"Women are generally smaller than men, which makes it harder for them to meet the height requirement," she said, which could potentially disqualify a pilot from flying.

Once a semester, all cadets are required to take a physical fitness test that includes a 1.5 mile run. Men have 12 minutes to finish, while women have 14 minutes 24 seconds, Blumberg said.

"If a cadet does not pass the physical fitness test, he or she has 30 days to retry," Blumberg said. "There are plenty of people who are willing to help you succeed in this area."

The ROTC also pushes cadets to keep up with academics, she said.

"You are a student first and the corps is second," Blumberg said.

During the four-year program, cadets learn how to become an officer and a student, Blumberg said.

They attend one ROTC lecture a week during the first two years and are required to complete field training at an Air Force base the summer after their sophomore years.

In the final phase of training, cadets become a part of the Professional Officer Course, a development program that emphasizes leadership and responsibility, Blumberg said.

She also said there are a lot of opportunities in the Air Force ROTC - "there's not just one way to go."

Kristina Gura, a cadet colonel and criminal justice senior, is aiming for a position in the Air Force Office of Special Investigations.

She participated in Operation Air Force, a summer program aimed at professional development. The program gives cadets the opportunity to shadow a variety of officers working in the their fields of interest.

Gura traveled to Wright-Patterson Air Force Base in Ohio to get a close-up look at the base's special investigation office.

"It gave me a good idea of what the real Air Force is like and helped me decide that this is what I want to do for a career," she said. "One of the main reasons I joined Air Force ROTC is because when I graduate, I'm guaranteed a $20,000 to $30,000 job," she said.

All ROTC students have the opportunity to participate in the shadowing program, which is catered to their individual fields of interest.

Blumberg participated in Operation Air Force at McChord Air Force Base in Washington during the summer to see what aviation entails, she said.

"This was my first experience of real Air Force life," she said. "I slept on the base, I ate on the base - I even got to go on a real mission," she said.

During her mission, Blumberg was put on a cargo plane as a crew member and worked with a different person each day. She traveled on a C-141 from Washington to California to Hawaii to Guam and finally to Japan.

"I got the entire idea of what the plane involves," she said.

Blumberg will use the experience to prepare for 52 weeks of pilot training at Laughlin Air Force Base in Del Rio, Tex., beginning in December.

"Some friends have told me I will study more this year than I ever have before," she said.

During Blumberg's training, she will fill out a "dream sheet" describing the type of aircraft she would like to fly.

"I want to fly heavy aircraft, like the cargo planes," she said.

The Air Force will weigh her preference against the types of pilots in demand, and consider her flight school performance to decide which type of plane she will fly.

When Blumberg finishes pilot school in December 1999, she will receive additional training on the specific type of aircraft the Air Force designates for her.

Blumberg said Air Force ROTC was a positive experience because it involved her in many different activities at the UA.

"It helped me learn how to manage my time better, and there were so many people motivating and supporting me through any tough times I encountered," she said.

Sarah Guzzardo can be reached at Sarah.Guzzardo@wildcat.arizona.edu.