Parking problems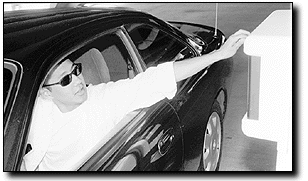 Ian Mayer
Arizona Daily Wildcat

Psychology senior, Jeff Lee, pulls out of a crowded garage at Mountain and Second streets yesterday afternoon. For the last 10 years the University of Arizona has sold parking permits based on a ratio of people to parking spaces. However, many students still have a hard time finding an empty parking space.


Parking at the UA might remind some drivers of playing "musical chairs," as there are more permit holders than spaces to park.

But University of Arizona parking officials insist they do careful research to ensure room for everyone.

"While we do oversell the permits, we don't oversell to the point that there is no space," said Marlis Davis, director of UA's Parking and Transportation Services. "We have never found that there isn't enough parking."

Because of an inherent lack of parking spaces, Davis said that for the last 10 years the UA has sold permits based on a ratio of people to spots - a figure that is reviewed annually.

There are three permits this year for every two spaces in Zone 1 parking lots, Davis said. A smaller ratio is used for parking garages, she said.

And Davis said the UA's method works.

Parking and transportation conducts an annual study the first week in September to determine if there's enough parking available for permit holders - a study that has never indicated a lack of available spaces, she said.

But psychology senior Jeff Lee has had his own problems finding a place to park.

"One time I showed up here (Second Street Garage) at 9 a.m. and there were no spaces - even with my permit," he said.

Forensic psychology junior Karen Miller said that UA parking is inconvenient.

"What's the point of building all these parking structures if there's no parking?" she said.

Davis said, however, that Zone 1 lots on East Sixth Street, North Cherry Avenue and North Campbell Avenue usually have spaces available, and three off-campus lots have campus shuttle service access, which runs from 6 a.m. to 8 p.m.

Davis said parking and transportation tries to dissuade people from driving and parking all the time.

"We've got a population of 50,000 people," she said. "We're trying to accommodate parking and encourage alternative transportation."

Those goals are accomplished by aggressive permit enforcement, Davis said. The UA must write tickets to ensure those who pay for a permit are able to park, she said.

"We're not picking on people," she said. "The officer has no idea whether a car has been there for two minutes or 20 minutes. If you don't enforce, people will park there."

Michael Lafleur can be reached via e-mail at Michael.Lafleur@wildcat.arizona.edu.