City passes restaurant smoking ban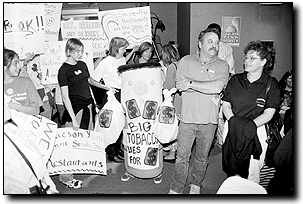 Matt Heistand
Arizona Daily Wildcat

The Tucson City Council meeting last night drew a large audience to debate legislation that bans smoking in local restaurants. The proposal passed by a 4-3 vote after more than an hour of discussion between the crowd and council members.


UA students accustomed to lighting up in restaurants will be forced outside starting Oct. 1 after the Tucson City Council last night voted to ban smoking in local eateries.

After more than an hour of interruptions from hecklers and passionate speeches from audience members, the council voted 4-3 in favor of the legislation.

Mayor George Miller, a voting member of the body, broke a 3-3 tie and decided to approve the plan - which will also prohibit smokers from lighting up in local bars that make half their profits off food sales.

Miller's vote prompted half the crowd of about 200 people to erupt in a loud cheer, while others, who vocally opposed the restaurant smoking legislation, were left in disbelief.

The ban could affect some University of Arizona eateries, but one restaurant owner last night said she was not concerned about the decision.

Jana Huntsinger, manager of Frog & Firkin, 874 E. University Blvd., said she does not think the ban will affect business.

"I guess it sucks for people who smoke," she said. "Luckily, we have a big patio so people can smoke out there."

The new legislation forces restaurants to install a separate indoor ventilation system in order to allow smoking. The plan also allows eateries that show a 15 percent loss in gross revenue one year after the ban to permit smoking.

"In the ordinance, if they come in and say 'we've dropped 15 percent of our receipts over last year from the same month'...those restaurants can do away with the total ban of smoking," Miller said in an interview after the vote.

But the mayor said he does not believe eateries will experience a loss in revenue.

"I don't think they're going to lose," he said. "People go to restaurants because the food is good."

The owners of Geronimoz' Restaurant and Bar, 800 E. University Blvd., who previously voiced their opposition to the ban, were unavailable for comment last night.

But many audience members at the session expressed concerns, presenting a wide variety of viewpoints to Tucson's governing board.

Representatives from the American Lung Association, many of them youths, carried signs that read: "We want to eat and breathe," and "I'll take the special, hold the second-hand smoke."

Risa Awerkamp, 15, a representative of the American Lung Association, accompanied a child outfitted in a furry cigarette costume.

"I'm really excited," Awerkamp said. "It's a great step toward cleaning the air - we just made history."

In her speech to the council, Tucsonan Linda Prazak told the story of her sister's battle with lung cancer. She said her sister does not smoke, and urged council members to pass the ban.

"People can travel for hours across the ocean, yet they can't take one or two hours just to delay their smoke and give the quality of life to those around them," she said through tears.

But William Murphy, owner of Murphy's Driftwood Lounge, 2001 S. Craycroft Road, implored the council to offer Tucsonans "a choice."

"Let the people make the decision, let them make it with their wallet," he said. "Let the marketplace make the decision."

Molly Grezaffi, owner of Molly G's restaurant, 903 E. Ft. Lowell, did not respond to the vote with as much enthusiasm.

"I just feel like it's a rights violation," she said. "(The) City Council has taken away our rights as business owners."

Democratic Councilman Steve Leal responded to those who said the "marketplace" should decide.

"There are areas where the market should decide, but this isn't one of them because it's a public health issue," he said.

Democratic Councilwoman Shirley C. Scott professed her opposition to the ban, saying the Pima County Health Department should handle the situation.

"The government needs to know its limits," she said. "The local government must be aware of the impact it has on small businesses."