Frat plans to renovate house gutted by fire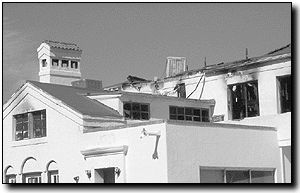 Ian Mayer
Arizona Daily Wildcat

The Alpha Tau Omega fraternity house, 1050 N. Cherry Ave., was gutted last summer in an arson attack. Delta Tau Delta fraternity now owns the building.


Delta Tau Delta fraternity members said yesterday they plan to move into the Alpha Tau Omega fraternity house charred last summer by arson after paying an estimated $300,000 to renovate the structure.

The house, 1050 N. Cherry, was in escrow in July when a three-alarm fire raged through the building, causing the Delta Tau Delta fraternity members to reconsider their intent to purchase the home.

According to public records obtained from the Pima County Recorder's Office, Delta Tau Delta purchased the house from Alpha Tau Omega for $850,000 about six months after the blaze.

However, Alpha Tau Omega discounted the price about $350,000 after receiving payment from its insurance company, said Paige Peterson, the Epsilon Education Foundation treasurer who supervised the transaction.

The estimated value of the house, determined by the Pima County Assessor's Office before the July 12 blaze, was $850,000.

Jeff Evans, Delta Tau Delta president, said the fraternity is looking forward to moving into the 70-year-old building after raising $300,000 to overhaul the structure.

"It will be like a brand new house," Evans said. "We're going to knock out the second story and re-do the bottom."

The money is expected to come from an insurance company, the Delta Tau Delta national chapter, fund raising and loans from the bank. Evans said he hopes the reconstruction will start Jan. 1.

Evans said Delta Tau Delta members decided to purchase the home because they wanted to move on campus. The fraternity has lived in its current house, 1550 N. Vine Ave., for 11 years.

"Being on campus is the best thing," Evans said. "It makes everything better."

The UA owns Delta Tau Delta's current residence and the fraternity is renting the building.

Delta Tau Delta members have attempted to paint their letters on the side of ATO's former house "three to four times," but vandals keep splashing paint over the letters.

The summertime blaze at ATO's former house was classified as arson because investigators with the Tucson Fire Department found that the flames erupted simultaneously in different places in the house.

University police sent results of the arson investigation to the Pima County Attorney's Office. After reviewing the evidence, Deputy Pima County Attorney Bill Dickinson decided Jan. 22 not to pursue the case because of a lack of evidence.

The case was then officially dropped, but investigators at UAPD ask anyone with information regarding the case to call 88-CRIME.