Decisions Decisions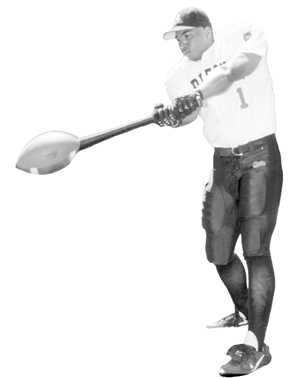 College football and baseball have regular seasons which take up only half the school year apiece, but to excel at these sports an athlete has to put in a full year's work in each.

Just don't tell that to junior Rafell Jones.

Jones has been able to accomplish what few people have achieved; success as a two-sport athlete.

He spends the months of August through early January swarming in the defensive backfield as a free safety for Dick Tomey's football squad, and the months of January through June roaming the outfield or as a designated hitter for Jerry Stitt's baseball team.

Jones, who hails from San Diego, Calif., came to Tucson on a football scholarship in 1995. Baseball was not even on his mind.

"I came in and really wanted football. Back in high school I didn't take my senior year of baseball too serious," Jones said. "It came to the point where I was just thinking about hanging up the baseball cleats and take my chances with football, since that is what would get me through school."
Football
12 games played
59 tackles
2 interceptions
4 passes broken up
1 fumble recovery

Baseball
36 games played
113 at-bats
.330 average
2 home runs
20 RBI


As Jones was considering hanging up the baseball cleats, he was suffering through a rough freshman season of football in 1995, playing only sparingly in the backfield and sometimes on special teams.

It didn't get much better his sophomore year in 1996 as he was able to get only seven tackles as a member of the special teams again. The adjustment from high school football to college football was taking more time than Jones expected since he was offensive-minded throughout his entire career up until college.

So, he decided that maybe he should give baseball another shot.

"Once I got through that first year, it was a mind thought that maybe I need to pick up those cleats again," he said. "I knew it was going to take a lot more work in baseball, but I knew I wasn't ever going to get the opportunity again. I didn't want to regret and say 'I wish.'"

He successfully walked on to the baseball team and proceeded to ride the bench for the entire year seeing only one official at-bat over the course of the season.

The football coaches decided to redshirt Jones in 1997, and that is when he decided to start taking baseball seriously again.

Needless to say, the first three years at the University of Arizona was a tumultuous time for Jones, but he always kept a positive attitude knowing that better days were still to come.

"Him playing both sports doesn't help him because he misses crucial practices in the spring for football," associate head football coach and secondary coach Duane Akina said. "We knew it was going to take some time, but it looks like his patience is finally paying off."

Jones' athletic career turned in a positive direction at the start of the 1998 baseball season.

He started 39 games in center field for the Wildcats, leading the team with a .470 on-base percentage, and he also hit for a .328 average, with three home runs and 18 RBI to go along with his 33 runs scored.

"He is just a great, positive athlete who does whatever he can do to help," Stitt said. "He will do anything it takes to win. He is always fired up and ready to go. If he wasn't here we would miss his talent, but missing his attitude is what would hurt the most."

After a successful baseball season, Jones was listed as the opening day starter at free safety in football and stayed there for 11 of 12 games. He didn't start in the UCLA game due to a half game suspension by the Pacific 10 Conference for being ejected for fighting in the Washington game.

He was the Wildcats' second leading tackler for the season, garnering 59 stops and he broke up four passes, intercepted two more and recovered a fumble.

"He had a productive year last year and we are looking for bigger and better things this year," Akina said.

He then turned in the pads at the end of the Holiday Bowl and began to oil up the glove and lace up the baseball cleats for the current season.

This year Jones has already had a 16-game hitting streak and is now batting .330 with two home runs and 20 RBI.

Not bad for a guy who thought his last high school baseball game would be the last time he stepped out on the diamond in real competition.

Other UA athletes marvel at what Jones has been able to accomplish in his UA career.

"One thing I love about 'Fell is that he is always out there everyday. He was even at spring practice for football in some mornings," sophomore shortstop Keoni DeRenne said. "That just shows me how dedicated he is for both sports. Whatever he chooses, he will make the right decision and will be happy."

After three years of trying to find himself, Jones has now become an integral part on two UA teams and is faced with the biggest decision of his life in the next year in choosing which one to pursue.

"I have always thought ahead into the future so it won't be bad when the time comes," Jones said. "A lot of people don't have the opportunity that I have to choose between. Being able to make a decision is really what has gotten me through both sports."

Jones is thinking about three possible scenarios that he hopes he has the ability to choose between.

"In the back of my mind I have always thought it would be football. It gives me a feeling of enthusiasm and it allows you to maintain it. If football was going well and I was able to make the adjustments I need to make, then I would probably choose football," he said. "Baseball has been more of an interest. But, it is now to the point where football is still there, but I can't be naive to baseball.

"In the worst-case scenario, at least I am going to have a degree in business. I had to drop down from a double to a single major because it was just too much to handle. But, I will have my education to fall back on and I take that serious. The credit there has to go to my mother."

While coaches have some say in and influence on the decision he makes, they know that the decision is up to him and only him.

"He has to go where his heart is, and that is what I would tell him," Stitt said.

Dan Rosen can be reached at Dan.Rosen@wildcat.arizona.edu.