Thursday April 15 - 21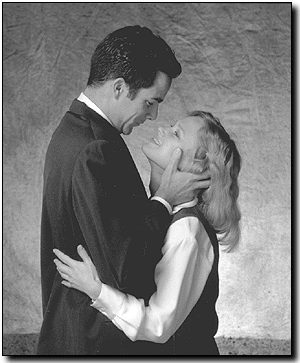 Arizona Daily Wildcat
photo by Tim Fuller Joshua Hutchinson holds Tina Jones's head up in The Last Night of Ballyhoo, the Arizona Theatre Company's latest production.
Thursday, April 15
Oye! La Orquesta Sinfonica Nacional de Mexico llegara al Salon Cien. For those of you who didn't take Spanish, the Mexican National Symphony Orchestra will come to Centennial Hall at 7:30 tonight. Tickets are $26-28 but with a student ID they're half price. Llame la gente a 621-3341 para informacion adicional. Gracia. The beat goes on at Crowder Hall at 7:30 p.m. when Arizona Jazz I performs with Ingrid Jensen on the trumpet. See these music masters for $7 general admission, $5 UA staff and faculty, and $3 for students/seniors. Kinda makes you glad you stayed in school, huh? The Fine Arts department at 621-1162 has all the swinging answers.
Tonight marks opening night for the Eighth Annual Arizona International Film Festival. With over 100 films showing all over Tucson, including several at Gallagher Theatre this weekend, you have no excuse to miss the best of independent filmmaking. Festival passes range from $20-150, and single passes are only $5. When you call
62-FILMS ask which movie Cameron Diaz has a cameo in.
Friday, April 16
The 1997 Tony Award winner for Best Play comes to The Temple of Music and Art, 330 S. Scott Ave. for its opening night performance at 8. The Last Night of Ballyhoo teaches bittersweet lessons about love, bigotry, and family through May 1. Show times and ticket prices vary so call 622-2823 to get updated.
The Arizona Repertory Theatre's production of On the Razzle, by Tom Stoppard, continues tonight and tomorrow at 7:30 p.m. in the Marroney Theatre. It's a crazy wordplay (pun intended) and it's all yours for $16 general, $14 for seniors and UA employees, and $10 for students.
Saturday, April 17
Meander through the downtown area at 18 different stages for the Tucson Area Music Awards (otherwise known as the TAMMIES) Club Crawl. The music of 80 bands will play all night for only $5. Call 624-9977 so you don't miss this happenin' hootenanny.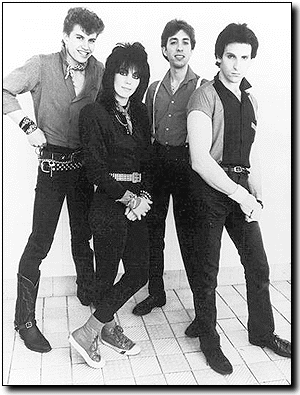 Arizona Daily Wildcat
Here's Joan Jett and the Blackhearts circa 1983, when they were young and able to wear tight pants.
Sunday, April 18
I love rock-n-roll! So put another dime in the jukebox baby! Yup, you guessed it, Joan Jett and the Blackhearts will close the Pima County Fair at 5 p.m., 11300 S. Houghton Road. This show is free with fair admission ($6). Call 792-3930 and beware of carnies.
Folk-country singers Gillian Welch and David Rawlings will perform in SSCI Auditorium at 7:30 p.m. Welch has been said to have the "strongest sense of pure personal vision and musical conviction of any female...since...the 70s." Tickets are $15 in advance and $17.50 day of show at Zip's Music, Antigone Books, and several other locations. Call Stefin Gordon at 529-0337 for more information.
Monday, April 19
The Primavera Foundation presents one of America's most beloved and outspoken authors, Barbara Kingsolver, at the Berger Performing Arts Center, 1200 W. Speedway, at 7 p.m. This benefit will feature readings, music and a special conversation on human shelter. For $25 you can see the event and attend a dessert reception. A call to 623-5111 will prevent unnecessary cluelessness.
And you thought your math teacher was bad. In "The Faculty," high school students find out that their teachers are really aliens! What's a teeny bopper to do? Go to Gallagher Theatre at 7:30 p.m. or 9:35 p.m. until April 22 for $2.50 to see this masterpiece of cinema. Call 621-4678, or it's detention for you.
Wednesday, April 21
The West comes alive when Robert Houston comes to MLNG Auditorium for a reading at 8 p.m. Houston, the author of Bisbee ¾17, wrote this fictionalized account of an Arizona mining town in 1979, but UA Press has recently reissued it. Call the Poetry Center at 321-7760 for more info, partner.