Crawling with sound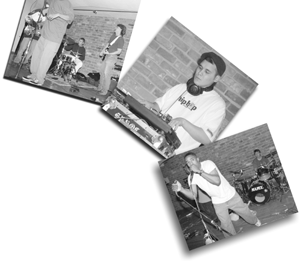 Wildcat File Photo
Arizona Daily Wildcat

Shoebomb, Poot and Turban Jones pictured to the left. See them all this Saturday.


It's that time of year again. The wind is blowing pollen into your sinuses, the birds are waking you up early in the morning, and the TAMMIES Club Crawl once again will turn downtown Tucson into a bustling frenzy.

So what makes this Club Crawl different from any other club crawl?

"It's pretty exciting," began Jeb Schoonover, the man behind the TAMMIES Club Crawl, "[We have] 30 percent new bands that haven't played any TAMMIES events before."

In years past, such names as Giant Sand, the Mollys, and Hipster Daddy-O have graced the listing of over 80 bands playing all in one night in more than eighteen venues. But this year, none of the big names were available.

"Those we look at as shoe-ins," said Schoonover. But their absence "really opened the doors for new bands."

"I think the idea of Club Crawl - going around and seeing new bands you haven't seen before - will really come to light this year," said Schoonover.

Also new to the Club Crawl this year are two all-ages stages, a country stage, a blues stage, and a jazz stage.

The TAMMIES, or Tucson Area Music Awards, started about seven years ago as a way for local bands to get local recognition. The idea was based on a similar event in San Francisco, called the BAMMIES, or the Bay Area Music Awards. The TAMMIES, along with the newly initiated Fall Crawl, which happened last October, are by far the best thing that ever happens to the local music scene every year, for bands and audiences alike. Bands get a chance to play for people that probably wouldn't have had a chance to see them before, and audiences get a chance to see all their favorite local bands, and maybe some potential favorites, in one night for the low price of $5.

Bands such as Nevershine, Poot, Hector on Stilts, Stuck in a Groove, Groovebox, Interlocking Grip, Pasta Rocket, and Turban Jones - names you may not have heard before associated with Club Crawl - are now right next to names like the Weird Lovemakers, Greyhound Soul, Shoebomb, and the Sand Rubies. As always, there's a little something for everyone at Club Crawl. Take it from the newcomers, and the old.