Back to memory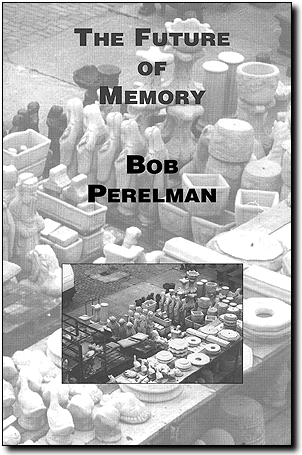 In January of 1997, Bob Perelman visited the UA campus to read his poetry. In a small group session a day before the packed reading in the Modern Languages auditorium, he handed out photocopies of a work in progress. It was called "Chapter One." We discussed it. He explained what some of the allusions meant.

"The 'fork in my head,'" he pointed out. "That actually happened. My sister stuck a fork in my head." He read and helped us along with his poem. Months later, the completed poem appeared in a poetics listserv. It's called "Confession," which is now in his new volume of poetry, The Future of Memory. It starts:

Aliens have inhabited my aesthetics for
decades. Really since the early 70s.
Before that I pretty much wrote
as myself, though young. But something
has happened to my memory. . .

Part of the appeal of The Future of Memory (Roof Books, $14.95) is the way it makes its alien subject matter familiar, giving the reader a down-to-earth language that helps elucidate problems that plague the modern consciousness.

Yet The Future of Memory nests itself smugly within the poetic tradition as well. With allusions to William Carlos Williams, James Joyce, Wallace Stevens, John Keats, etc., Perelman offers the connoisseur a delectation and the novice something to study for.

Perelman's verse is brilliant at pitching its tent in a no-man's land between the language of origins and contemporary speech. The names, though, seem dislocated, maybe amputated from the original sources, which calls upon us to remember how name is so easily divorced in the memory from named. So we are never quite sure if his allusions to other poets are to be taken as anything but extra words, adding a hyphenated name onto the poet's own.

To the coarsely woven subject of memory, Perelman stitches some durable verse, as if in constant formulation of a theory that the struggle with former models distracts him from pursuing. He writes:

The present is full of survivor's sentences.

With disoriented conviction and memory

too deep for instrumental speech. . .

The Future of Memory is a nice follow-up to Perelman's previous volumes and a good book in general. It is a pleasure as much to the senses as it is to the intellect.

Briefer Mention

Lisa Samuels' The Seven Voices (O Books, $10.00) is thick with deeply rewarding imagery and thoughts. Sometimes the poetry limbers up your perception with broken verse lines, forcing you to decipher how to read - top to bottom or left to right? But there are water valves in some houses that one must turn clockwise to get water and in others counter-clockwise, so with these poems one feels strangely at home. Like looking at one of Joseph Cornell's box constructions - which give the observer views of odd objects in elegant glass cases, The Seven Voices invites your attention to its broken and assorted ideas with jeweled language: "lambent sinecure"; "a precept modulates desire"; "I sing of naked lingerie." The Seven Voices is, as the poet writes, is "a case for the ashes of violins to fit in."

Laura Moriarty's The Case (O Books, $11.50) plumbs the treasuries of forgotten memory, three-dimensional art and literature. At times deliberately esoteric without increasing our attention, The Case also has moments of luscious verse and prose that point to the ordinary without being ordinary. Sometimes this comes at moments of otherwise mundane reflection: "Our socks whirling in the dryer interest us." The Case is at its best telling instead of showing. When it is good, the poetry makes a fist at the tradition. And it often has the capacity to inspire laughter, as in this jab at modernist poet William Carlos Williams: "(Williams writes of himself as the place/Where two women meet)/Please."