Back to nudity and self-identity
By meghan tift
Arizona Daily Wildcat
April 15, 1999


Send comments to:
letters@wildcat.arizona.edu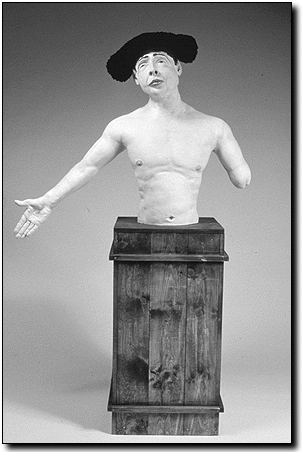 Arizona Daily Wildcat

photo courtesy of UAMA "El Matador" by Adam Davis beckons you to the Masters of Fine Arts Exhibition currently on display at the University of Arizona Museum of Art.


I recently found the perfect piece for my foyer. It's a naked boy holding a football with his face painted black. Its name plate, which reads, "Children's games/Some Kids Called it Nigger Pile. And Others Smear The Queer, " completes the composition which is so ideally suited to giving off first impressions.

This sculpture is the first thing visitors see when they enter the University of Arizona Art Museum's latest exhibit, which displays the thesis work of various students in the Fine Arts masters program. The work is a series of studies in the perverse, the soulful, and the mechanical.

Dealing in the perverse is Adam Davis and his ceramic sculptures of naked little people. Besides the boy with the coal black face and the football is a girl gluing some pubic hair into her naughty place, a black man with a gold-encapsulated penis, and a one-armed matador. Davis' sculptures, besides being cute and fat, appear to focus on growing up into male, female, and racial sexual identity. His work criticizes unrealistic societal codes for masculinity and femininity.

Speaking of naked people and identity, Douglas Highland took some photographs that seem to explore man's identity and historical relation to the natural world. Man is naked. He is standing apart from the rest of the exhibit, and he looks forlorn. Meanwhile, more photos provide a panoramic blur of taxidermy wildlife all around him.

The Master of Fine Arts Exhibit at the University of Arizona Museum of Art runs through May 5. Gallery hours are Monday-Friday 9 a.m.-5 p.m. and Sunday noon-4 p.m. Sculptures by Ken Jones and paintings by Craig Cully, both MFA students, will be on display in the Joseph Gross Gallery through May 5 as well. Gross Gallery hours areMonday-Friday 10 a.m.-5 p.m. and Sunday 1 p.m.-4 p.m.

Another artist's fear of becoming her crazy Aunt Eleanor manifested itself in a borderline morbid exhibit called Fear Of Schizophrenia. This one includes a wall of cigarette boxes, a book made from carpeting on which her aunt was found dead and shrines set up in dirty disarray to imitate Eleanor's living conditions. To make her fear of becoming her aunt more immediate to the viewer, and to convey the split mind/split body definition of schizophrenia, Jacinda Russel superimposes some photos of herself on images of her aunt.

Franz Weldgen also did some superimposing - of a more distasteful nature. His black light room of comic perversion shows what one can accomplish with an overdeveloped sense of sardonic irreverence. He desecrates old paintings by embellishing them with black light-sensitive paint, putting eye beams where there are none and slinging tits out of overcoats. A nasty comic book placed at the entrance of the black light room prepares the viewer. As a viewer, it becomes natural to ask oneself whether or not mindless and excessive perversion can take the place of insightful artistic expression. It may, at times, seem like the very point the artist is trying to convey, but it also appears that he just can't function outside of it. And, yes, it bothers me.

It also bothers me to see a bunch of machines whose functions I don't know anything about. But it doesn't bother Brian Horton. In fact, he likes it. He puts them all over the room and lets us stand in awe of them as we wonder what on earth they are for. After all, what's an exhibit without well-polished gizmos arranged in spatially pleasing ways?

Sculptures equally suggestive and ambiguous about their functions are sitting like big, primitive instruments in the Joseph Gross Gallery. Master of Fine Arts student, Ken Jones, made these. It's just plain interesting to see the contrast between these and the slew of dancing naked man paintings on the walls, created by Craig Cully. Ahh! We're back to more nudity and self-identity. Between the two galleries housing these works, it seems this theme just cannot rest. Will it ever stop? Yes, it's going to stop May 5.