Earth Day event brings parade, controversy to local streets
Correction
Because of an editing error in yesterday's Arizona Daily Wildcat correction, the man pictured in Monday's article "Earth Day event brings parade, controversy to local streets" was incorrectly identified. He is Leith Kahl, a theater arts sophomore. He was one of the men who held the anti-Raytheon banner, not one of the individuals who tore down the banner. The Wildcat regrets the errors.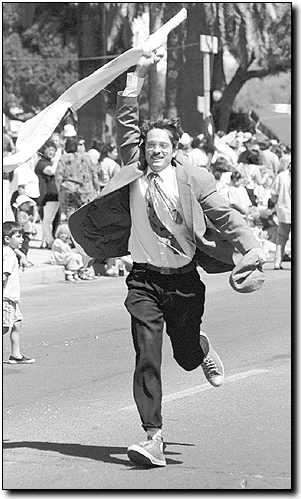 Ian Mayer
Arizona Daily Wildcat

After protesters raised a "Raytheon presents: Kill the Earth Day" banner protesting Raytheon Corporation, theater arts sophomore Leith Kahl ripped down the banner and skipped down Scott Street during the 5th Annual Tucson Earth Day Festival Saturday morning. Raytheon is responsible for missile research, development and engineering and was one of four major sponsors of the festival


Downtown Tucson's Earth Day parade was disrupted briefly Saturday when a UA student and member of the "Earth First!" environmentalist group unveiled a banner criticizing Raytheon's sponsorship of the event.

Two men wearing Earth Day T-shirts immediately tore down the banner, which said "Raytheon presents: Kill the Earth Day." Tucson Police Department officers questioned witnesses, but no arrests were made.

Leith Kahl, a University of Arizona theater arts sophomore, helped hold the anti-Raytheon banner.

"It's rather shameful that this event, which used to be a legitimate environmental event for this nation, has been taken over by corporate sponsors," he said.

Kahl said he was worried that the many children at the event would not be able to tell the difference between real environmentalism and what he called "politically correct, environmentally sounding propaganda."

The Earth Day Festival Committee prohibited any participating organization from criticizing any other group taking part in the event.

The incident highlighted controversy that has surrounded this year's Earth Day event.

Several local environmental organizations - including the Arizona League of Conservation Voters, Arizona Safe Energy Coalition, Women's International League for Peace and Freedom, the Arizona Chapter of Raytheon Peacemakers, the Arizona Green Party and the Southwest Center for Biological Diversity - boycotted the festivities because of Raytheon Systems Company's sponsorship.

In a letter to the Earth Day Festival committee, members of the Sierra Club's local chapter explained their boycott as a protest against alleged "greenwashing" by Raytheon and other large companies such as BHP Minerals, Waste Management of Tucson and Tucson Electric Power Company.

The letter alleges "Raytheon's predecessor, Hughes Aircraft, and the Air Force spent over three decades dumping a highly poisonous substance known as 'TCE' into South Tucson's soil and ground water...the soil and groundwater contamination is still there."

Sierra Club members also allege in the document that the contamination has made hundreds of people sick.

Stephen Villaescusa, Raytheon's senior manager for communications and public affairs, dismissed the protesters as uninformed.

"They made a lot of assertions that aren't grounded in fact," he said. "It's just an emotional issue."

Villaescusa said Raytheon, which donated $2,000 to the Earth Day event, has won many awards for environmental efficiency and innovation.

But Megan Southern, membership coordinator for the Southwest Center for Biological Diversity, maintained that Earth Day was tainted by Raytheon's involvement.

"It's kind of a moral quandary for us to speak out against Earth Day," Southern said. "While we're working hard everyday, it's the one day the media pays attention."

The fifth annual Earth Day celebration drew about 700 people to the Tucson Children's Museum to view the educational booths and a parade. The museum has several exhibits designed to teach respect for the environment, said Beth Walkup, the facility's executive director.

The parade was led by UA mascot Wilbur Wildcat and U.S. Rep. Jim Kolbe, R-Ariz. Republican mayoral candidate Bob Walkup followed close behind and took the opportunity to greet the crowd.

Beth Walkup, who is married to the candidate, said her husband worked at Hughes Aircraft for 13 years. He was followed by several floats and marchers from sponsoring companies and local schools. Some children were dressed up as rainforest animals while others performed Mexican folk dances.

Don Gibson, co-chair of the Earth Day Festival Committee, said he was pleased with the large number of children participating, saying schools are the "biggest draw" to the event.

"We have a good crowd and good exhibits," he said.

Participating companies and organizations also set up educational booths for the crowd.

Tucson Electric Power Company showed off an electric car and helped children make natural birdfeeders by dipping pine cones into peanut butter and birdseed.

Chuck Decourse, a TEP engineer, showed off a large array of solar panels capable of generating up to two kilowatts.

While TEP has no plans for generating any of Tucson's power with solar power, they will continue using the panels for educational events, Decourse said. The majority of the city's power comes from coal, with the balance coming from nuclear power plants, he said.

Other booths showed off solar-powered ovens, exhibits on the Central Arizona Project and informational literature.