'Suicide mission' ends in carnage
By The Associated Press
Arizona Daily Wildcat
April 21, 1999


Send comments to:
letters@wildcat.arizona.edu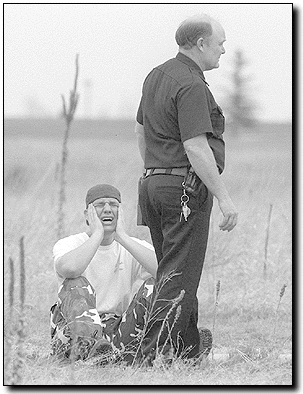 Associated Press
Arizona Daily Wildcat

Rocky Mountain News, George Kochaniec A student is overcome with emotion as he sits down next to a police officer near the triage scene at Columbine High School in Littleton, Colo., yesterday. Three young men in fatigues and black trenchcoats opened fire at the suburban Denver high school yesterday in what police called a suicide mission. The sheriff said 25 people may have been killed, and that two of the suspects were found dead in the library.


Associated Press

LITTLETON, Colo. - Two students in black trenchcoats swept through their suburban high school with guns and explosives in a horrifying suicide attack yesterday that left as many as 25 people dead. Several students said the killers were gunning for minorities and athletes.

It was by far the bloodiest in a string of school shootings that have rocked U.S. communities over the past few years.

''They were laughing after they shot,'' said student Aaron Cohen. ''It was like they were having the time of their life.''

The gunmen - both juniors at Columbine High School in this Denver suburb - were found dead in the school library with self-inflicted gunshot wounds and bombs around their bodies, sheriff's spokesman Steve Davis said.

''It appears to be a suicide mission,'' Sheriff John Stone said.

Police refused to identify the killers, but classmates and Denver media identified them as Eric Harris and Dylan Klebold.

Students said the killers apparently belonged to a clique of outcasts called the ''Trenchcoat Mafia'' who wore long black coats, boasted of owning guns and disliked blacks, Hispanics and football players.

Andrew Beard, a student, said Harris and Klebold often said they ''hated the jocks'' ''because they thought they could do anything they wanted, walk through life smoothly.''

Josh Nielsen, a junior, added: ''They liked playing war games. That's all they could talk about. They played war games and they liked to re-enact World War II battles.''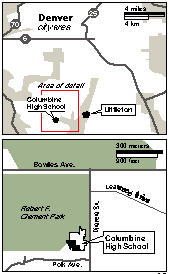 Davis said that the motive for the attack was unknown and that school officials had not heard reports of trouble from the students.
Davis said 20 to 25 people were killed, students and teachers alike. But officers did not plan to remove bodies - which were in rooms throughout the school - until today because of the danger of explosives and the need to preserve evidence.
FBI agents and police SWAT teams slowly made their way through the building, and a bomb set on a timer exploded just before 11 p.m. No one was hurt. At least 12 other bombs were found, some set up as booby traps, Stone said. ''It's like walking through a minefield,'' he said.
Explosives also were found in two cars in the school parking lot, with one bomb rigged to blow up a gas tank, Stone said. Also, the gunmen's homes were being searched, and a bomb was found in one.
Many parents had to wait anxiously for word about their children even 10 hours after the shootings. They gathered at a nearby elementary school and answered questions from investigators, who were trying to identify the victims based on what they were wearing.
Although authorities told parents to go home and come back in the morning, some refused to leave.
At least 23 people were hospitalized, most of them with gunshot wounds. One girl suffered nine shrapnel wounds. At least 10 victims were in critical or serious condition; one was in guarded condition.
The attack began at 11:30 a.m. at Columbine, which has 1,800 students. The killers, wearing fatigues and trenchcoats, started firing in the parking lot and then entered the school. They shot as they walked into the cafeteria, then walked upstairs to the library and continued firing with what were thought to be an assault rifle and two sawed-off shotguns.
Cohen said he was in the library when the gunmen started throwing pipe bombs and shooting people. One of the gunmen said: ''All jocks stand up. We're going to kill every one of you,'' Cohen said.
Cohen said one put a pistol to his head but did not shoot him. Instead, he said, the shooters turned their attention to a black student, saying, ''I hate niggers.'' Cohen heard three shots but couldn't see what happened. One girl begged for her life, but a gunshot ended her cries.
Bullets ricocheted off lockers as students sprinted for the exits.
Wade Frank, an 18-year-old senior, said he saw one of the killers shoot someone point-blank in the back with a 2-foot gun, possibly a sawed-off shotgun. ''He was just casually walking,'' Frank said. ''He wasn't in any hurry.''
Dozens of students hid in classrooms before escaping with the help of police in an armored car. Others were trapped for hours while SWAT teams searched for the gunmen.
At one point, a bloodied young man dangled from a second-floor window, his right arm limp, and was helped down by two SWAT team members. His condition was not immediately known.
Since 1997, a series of school shootings around the country have led to demands for stricter laws, tighter security and closer monitoring of troubled students. Two people were killed in an attack in Pearl, Miss., three in West Paducah, Ky., five in Jonesboro, Ark., and two in Springfield, Ore.
In Washington, President Clinton said: ''Perhaps now America will wake up to the dimensions of this challenge, if it could happen in a place like Littleton.''
Students said the killers might have been part of a group of eight to 10 students known as the Trenchcoat Mafia.
Sean Kelly, 16, said Harris and several members of the Trenchcoat Mafia had a video production class and made a video about guns they had. He also said that several members recently bragged about getting new guns, and that he heard members making derogatory remarks about blacks and Hispanics.
''They're really dark people,'' said Wes Lammers, 17. ''There were a lot of jokes that one day they might snap or something.''
Teen-agers who escaped the ordeal hugged parents and each other and wept and they recalled the shootings. Some students had called their parents on cellular phones from inside the building to whisper that they were OK.
As TV images of the scene were broadcast nationwide, helicopter ambulances used a sports field as a landing pad, and officers in helmets and camouflage gear took cover behind squad cars. Students who fled the building wept and held their hands above their heads while police frisked them.
Four youths were taken in for questioning after the attack. One was led away from the school in handcuffs and three were stopped in a field near the school. Authorities said the four were friends of the gunmen.
Nielsen said the attack reminded him of a violent scene in Keanu Reeves' latest movie.
''One of the guys pulled open his trenchcoat and started shooting,'' he said. ''It was a scene right out of the movie 'Matrix.'''
Columbine High is in the middle-class suburb of Littleton, population 35,000, southwest of Denver. Nearby schools were locked down after the attack, with students prohibited from entering or leaving for hours.
Baseball's Colorado Rockies and basketball's Denver Nuggets postponed their night games yesterday.
The Colorado Legislature has been debating a bill that would allow people to carry concealed weapons, and the shootings brought emotional reaction from both sides.
The bill's supporters said a teacher or administrator with a concealed gun could have stopped the tragedy; its opponents said the rampage was evidence that society is already overrun with guns.