ASUA officials pay out for 'A' Mountain excursion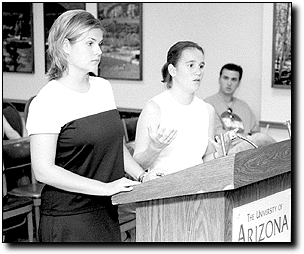 Matt Heistand
Arizona Daily Wildcat

Blue Key President Jennifer Goodman (left) and Vice President Jana Richey speak to ASUA last week to request for money to fund the honorary's outing to "A" Mountain. ASUA gave $1,400 for this 74-year-old tradition.


ASUA senators last week handed the Blue Key National Honor Society $1,400 to repaint the letter "A" on Centennial Peak Hill.

Last year, senators forked over $1,650.

While Blue Key President Jennifer Goodman said the trip is an important University of Arizona tradition that dates back 74 years, critics, including ASUA Sen. Dave Snyder, have raised questions as to the lack of fund raising by the club, and the excessive costs of painting the "A."

"I don't want to criticize a student organization," Snyder said Wednesday. "But as far as us giving them money, when an organization's primary purpose is to do a program, they should remember that it costs money and fund raise keeping that in mind."

During last week's Associated Students Senate meeting, Snyder was the sole abstention in a 9-0-1 vote to approve funding for the event.

"I didn't know if they had really done the work or not," he said. "I think it's my job to question that."

At that meeting, Goodman presented the Senate with a cost breakdown for the Sept. 19 event, and asked for $1,415.

Buses to transport an estimated 300 students up the mountain tally $1,205, according to the funding request form given to ASUA.

Goodman said the university is liable if students take their cars up the mountain, so five buses and one UA van are necessary expenses.

Other expenses, including flowers and crowns for the king and queen of the Homecoming-style event, punches the total budget up to $1,415.

ASUA Administrative Vice President Ryan Rosensteel, a former club advocate, said the event is rewarding, but costly.

"It's just an expensive event," he said.

Last year's organizers budgeted $2,890 for expenses, but former Sens. Morgan Long and Rosanna Savone worked that number down to $1,650.

Goodman, who painted the mountain during her freshman year, said Wednesday that last year's officers were "disorganized."

"I wasn't involved with the financial matters last year," she said.

Rosensteel also blamed last year's officials.

"It sounded like poor leadership," he said.

But Goodman and Jana Richey, Blue Key's vice president, defended the outing, calling it an important freshman event.

"I think tradition is extremely important," said Goodman, a health and human services senior. "I think it helps the freshman class come together."

Rosensteel made some suggestions Wednesday as to how Blue Key can keep their tradition alive without asking for money each year.

"Maybe ASUA could offer leadership workshops," he said.

Rosensteel also suggested Blue Key try washing cars, holding raffles or cleaning up after basketball or football games to raise money.

"The (ASUA club and organization) appropriations board really encourages the clubs to fund raise," he said.

Goodman said she plans on looking for other sources to raise money.

"Hopefully, we'll try to do several small fund raisers," she said.

David J. Cieslak can be reached via e-mail at David.J.Cieslak@wildcat.arizona.edu.